Students must learn to avoid loan risks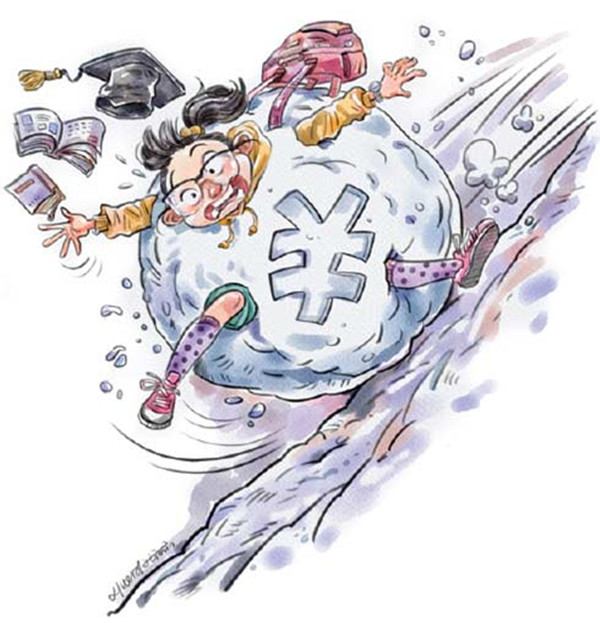 Li Min/China Daily
COLLEGE STUDENTS can now apply to authorized commercial banks for small loans but will be denied access to online lenders, according to an official of the Ministry of Education. Beijing Youth Daily commented on Thursday:
In the wake of increasing online loan schemes, particularly those targeting college students, several State-owned commercial banks have restarted offering small loans to university students, a service that was discontinued in 2009 due to procedural flaws. Bank of China, for example, has started a campus loan program that can extend from three to six years and capped the amount at 8,000 yuan ($1,250).
The banks are right to revive the plan, as their absence from the campus loan program allowed many online loan sharks to not just flourish but also prey on students who needed money but failed to see the underlying dangers of borrowing "quick" money. But the commercial banks have a lot to catch up and reflect upon when it comes to students' requirements and the situation on the ground.
Their previous campus loan service suffered a setback because the supervisory loopholes allowed students to apply for multiple credit cards, a popular trick to spend more in advance. The risk of overdrawing was often not foreseen by the banks.
That was exactly when online loan sharks began to step in. College students could easily borrow money from the lenders, who are not shy of practicing usury and using force to get what they consider their "fair" share. As a result, some female college students were coerced into taking nude photos for illegal lenders as a "collateral" that they would repay the debt.
Apparently, neither the previous bank-directed small loans nor the online campus loan is a desirable financial assistance to college students. There should be limits on how many credit cards a college student can possess, depending on his or her debt-repaying capability, and young borrowers have to be taught how to spend properly and avoid debt risks.