Will foreign spouses of Chinese individuals ever be treated like their Chinese counterparts?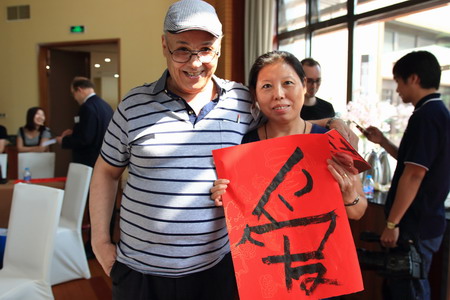 Sava Hassan and his wife. [Photo/China Daily website]
As a writer who has focused his career on dealing with social issues for most of his life, I do believe that one of my responsibilities is taking on the plight of those who do not possess the capacity to air their pet peeves.
Before I venture into the topic of my article, I must emphasize the fact that I hold the utmost respect for China and its government. Therefore, the arguments made in my article should not be perceived as a criticism of China's policies. They are nothing but observations from one of the individuals who sees the unfair treatment that foreign spouses of Chinese individuals are unintentionally subjected to.
For certain, foreign spouses of Chinese individuals who took the decision to make China their home, are facing the dilemma of attempting to build reasonably comfortable lives with their Chinese partners while being treated as a single foreigner. They do not receive any special treatment as a result of their marriages to Chinese people.
Please, do not get me wrong. Of course, they chose to marry out of love, devotion and compatibility.
It is a well-known fact that most nations in the world tend to bestow special privileges upon the spouses of their citizens to make it easier to establish a life in the country of their husband or wife. The same cannot be said about China.
Foreign spouses of Chinese people face several obstacles in landing suitable positions, getting medical treatment or being included in their spouses' insurance policies.
A foreigner who is married to a Chinese person has to obtain a work permit just like any other foreigner. He or she is also required to go through the hassle of going back to his or her country to get a Z-visa.
Most foreign spouses do not see the logic behind that measure. They believe that they can do without the extra expenses that could be avoided if they were allowed to satisfy the requirements of getting a work residence from within China.
They are neither provided with medical treatment, nor included in their Chinese spouses' insurance policies. To sum it up, they are still treated just like any other foreigner.
Some foreign spouses are hesitant to go back to their countries for personal reasons. Consequently, they can't work without a Z-visa. Therefore, how are they going to support their families? Some of them are forced to work illegally which provides some corrupt employers to take advantage of their predicament to exploit them by reducing their salaries or assigning them extra hours.
What could be done to resolve the predicament of foreign spouses? The government could provide them with temporary work permits that would be renewed yearly.
They should be allowed to get a Z-visa without leaving China. They ought to be granted some of the privileges that Chinese spouses enjoy and take for granted.
It is fair that foreign spouses of Chinese people receive free medical treatment or at least at a reduced price. Without stating the obvious, they ought to be included in their spouses' insurance policies.
Some may argue that may lead some scrupulous foreigners to marry Chinese people solely for the benefits. However, the government can establish rules to govern the process to protect its Chinese citizens such as stipulating that the foreign-Chinese marriage must last a particular period of time before being granted these privileges.
It is hard to leave your family and friends to build a new life in a foreign country, especially if you voluntarily came to share your knowledge and expertise with its citizens. In addition, marriages between two different cultures and backgrounds need all the help they can get to stand the test of time.
Taking a few reasonable measures to facilitate foreign spouses' integration into China would be appreciated by both foreigners and their Chinese spouses.