Tengger case shows even big firms can't escape penalty for polluting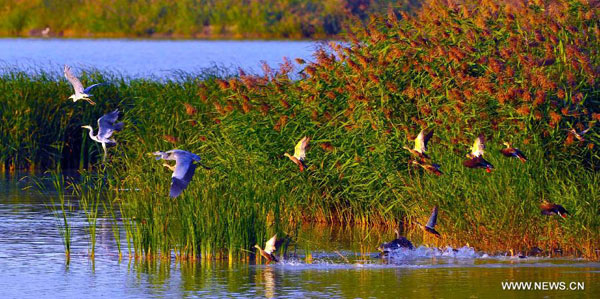 Birds fly over the wetland of Tengger Desert in Zhongwei, northwest China's Ningxia Hui Autonomous Region, Sept. 15, 2011.[Photo/Xinhua]
PASSING THE VERDICT in the Tengger Desert pollution case, the Intermediary People's Court of Zhongwei, Northwest China's Ningxia Hui autonomous region, said on Monday that the eight polluting enterprises should pay 569 million yuan ($86 million) for the restoration of the contaminated soil and another 6 million yuan to a public welfare fund for environmental damage. Beijing News comments:
Since the fine is the highest imposed on environmental polluters in China, it will help raise people's environmental awareness. This is the first time multiple polluters have been penalized in a single environmental case.
The verdict should also come as a warning to those polluters who believe several big enterprises are not likely to be penalized in one environmental case, because they are growth engines, big taxpayers, and often enjoy local government protection.
The Tengger Desert pollution case also shows some local governments no longer focus on GDP-centric governance; instead, they accord due priority to environmental and ecological protection. Besides, the judiciary, too, attaches importance to public interest litigation for environmental protection, which used to be difficult because of the indifference of local authorities and the difficulty in collecting evidence.
However, the seemingly heavy fine may still not be enough to cover the cost of the environmental damage in the Tengger Desert, which was used as a sedimentation basin by the eight chemical enterprises for years.
It will take a long time to cleanse the soil, and it remains doubtful whether the environment and ecology can be completely restored. Still, the court should supervise the eight enterprises to ensure they fulfill their legal liabilities throughout the soil restoration period. Plus, there should be a professional evaluation of the restoration project under effective public scrutiny.