Easing the anxiety that comes with taking the TOEFL, IELTS, ACT or SAT tests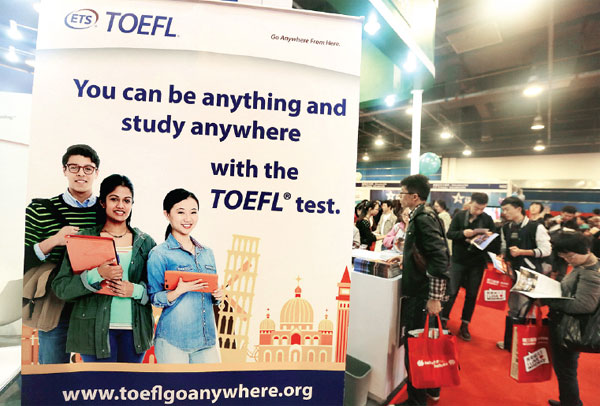 A poster for TOEFL test is displayed at the China Education Expo in Beijing in October, 2014. Provided to China Daily
In a recent chat with some high school students, who were studying at a private school to prepare for taking either the TOEFL or the IELTS tests, I was shocked to discover how stressed they really were, over the possibility of failing or receiving low scores.
I attempted to calm them and ease their anxiety by stating any test would be easy to pass if it is handled systematically. Furthermore, I mentioned the fact all of the TOEFL, IELTS, SAT and ACT tests focus on testing the capabilities of their takers in using critical thinking and intelligence to complete them successfully.
After seeing the blank look on their faces, I realized the students had no idea about what I was talking about. Hence, I came to the conclusion I needed to guide them slowly in order for the students to comprehend the significance of my recommendation for handling their future exams systematically.
I began to emphasize the fact examiners were well-aware English was not their native language. Therefore, they would then be willing to tolerate their insignificant imperfections in expressing their views. Consequently, they should not panic if they commit a few errors.
Observing their interest, I continued to stress the importance of being concise, coherent and comprehensible in forming sentences. Students need to build simple sentences in their minds before expanding them by adding adjective, proverbs, idioms and other elements of the English language.
They were confused about the term "being coherent" which then prompted me to explain is they were coherent, they would be easy to follow by being logical in stating their views.
I advised them to variate their vocabulary and expressions in handling various components of their exams by using vivid and imaginative arguments to validate their points of view. For certain, being animated would captivate the interest of their examiners especially in the speaking component of the IELTS exam.
I wished to extend our discussion further but, unfortunately, they had classes to attend. The students expressed their gratitude for my help before they left me to wonder about the predicament of the Chinese students who are subjected to go through the stressful experience of handling international admission tests.
It is clear with the rise of the standards of living Chinese, more families opt to send their kids abroad to complete or advance their studies. Of course, they believe getting a degree from an overseas renowned university would grant their children an opportunity to land prestigious positions in their fields of choice in China, and who can blame them?
The problem is the fact there is a shortage of qualified teachers who possess the capacity to facilitate the process of guiding their students through the procedure of preparing for handling such exams.
Currently, teachers in schools who offer those courses force the students to refer to memorization in order to pass their desired tests with reasonably high scores.
Most teachers at those schools focus on the task of preparing their students to pass their desired tests, ignoring the crucial fact students must survive inside and outside the academic circle. The tests prepare them for handling the challenge of progressing in their studies. However, teachers ignore the fact they need to survive in the outside environment also.
The fundamental question should focus on the means by which we can improve the methodology of teaching international admission English courses especially TOEFL, IELTS and SAT among others.
Those schools should invite experts in the methodology of teaching those courses to hold workshops for their teachers. Certainly, the owners might argue that it is costly to do. However, they can increase their fees. For certain, most parents would not mind if it would be a benefit, and certainly it will.
The government should also regulate the process of granting permissions to schools that wish to offer those courses. As for families, please take your time to be selective in choosing the appropriate school for your child. His or her future might depend upon it.
Finally, students ought to be more courageous when requesting extra efforts from teachers to familiarize them with the elements of the language which are needed to survive both inside and outside the academic circle in their prospective English countries of their choice.
Sava Hassan is a Canadian Egyptian educator.