China in the front seat of global AI revolution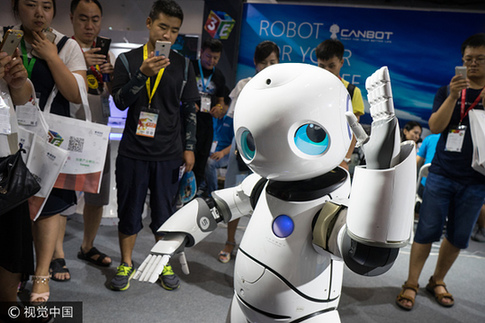 Visitors watch a robot dance at the 3E-Beijing International Consumer Electronics Expo, July 8. [Photo/VCG]
In an interview with Xinhua News Agency published in China Daily on August 18, 2017, under the title of "China is leading way with global AI revolution in full swing", a leading Australian artificial intelligence scientist at University of New South Wales, Professor Toby Walsh said, "China is making a very sensible bet here on AI. It is very well-placed to take advantage of the coming AI revolution. It has a lot of data, it has lots of big tech companies which are well positioned to develop." Walsh is absolutely right when he said that China is extremely well-placed in the AI sphere and possibly surpasses all others in the pursuit of AI technological eminence.
Artificial intelligence (AI) technology is widely seen as the next frontier of innovation and growth, expected to be the biggest driving force in human history in the next 30 to 50 years with China assuming world leadership. With its considerable strength in AI research and development, it has become a powerhouse of innovation in deep learning, sensors, predictive maintenance, medical imaging and intelligent robotics.
According to the Wuzhen Institute in Hangzhou, China was the world's second-biggest investor in AI enterprises last year, injecting $2.6 billion into the sector compared to US' $17.9 billion. That still leaves a big gap, but China's rapid progress in AI industry indicates that it may soon surpass the US.
According to a report by the China Internet Network Center in late January, as of December 2016, China had 731 million internet users, equal to the population of the European Union, with an internet penetration rate of 53.2 percent. Chinese internet users are highly responsive to new technologies. This creates a clear edge in artificial intelligence no other country can rival. Indeed, in recent years, China has been playing an important role in innovation and growth.
According to a report of the consultancy firm PricewaterhouseCoopers, AI will contribute $15.7 trillion to the global economy in 2030 and China will be among the biggest beneficiaries, with a 26 percent boost in its GDP by then.
The Chinese government attaches great importance to Artificial Intelligence 2.0. The 13th Five-Year Plan (2016-2020), and the Made in China 2025 program, Robotics Industry Development Plan and Three-Year Guidance for Internet Plus Artificial Intelligence Plan (2016-2018) are all contributing to boosting AI research and development.
During the opening meeting of the fifth session of China's 12th National People's Congress (NPC) on March 5, Premier Li Keqiang announced in his Government Work Report China's strong determination to support AI growth. "We will accelerate R&D on and commercialization of new materials, artificial intelligence, integrated circuits, bio-pharmacy, 5G mobile communications, and other technologies, and develop industrial clusters in these fields," the report read. This was a clear message China intends to assume worldwide leadership in technology.
As part of the "Made in China 2025" plan, the government has pinpointed AI as a key area for advancement. During the first World Intelligence Congress in Tianjin, north China, on June 29, 2017, Minister of Science and Technology Wan Gang revealed the intention to roll out a slate of important artificial intelligence projects and step up efforts to cultivate AI talents to gain a lead in the cutting-edge technology.
It should be noted here that on July 20, 2017, China's State Council released the "Next Generation Artificial Intelligence Development Plan", which outlines China's aims to lead the world in AI. The plan will give funds to AI-related projects, such as the CAS Institute of Automation, a Beijing consortium of companies and universities. China intends to pursue a first-mover advantage to become the premier global AI innovation center pushing the domestic AI level to a more international approach challenging US dominance.
China's top economic planner, National Development and Reform Commission launched its first national engineering laboratory for big data distribution and exchange technologies on March 11. It is formed by China's biggest online search engine, Baidu, in partnership with the elite Tsinghua and Beihang universities, working together to boost the country's digital economy to compete in the global market.
According to Xinhua, China plans to expand its artificial intelligence products market to over $15 billion by 2018 by speeding up the manufacturing of products like robots, home appliances and mobile phones as part of efforts to develop new technologies to upgrade the structure and performance of the real economy.
Chinese technology companies, large and small, have already created AI systems in their core businesses with measurable impact on human lives and are not lagging behind in artificial intelligence applications offered by American high-tech giants - Google, Microsoft, IBM, Facebook and Amazon.
Undoubtedly, China's top three Internet companies, Baidu, Tencent Holding and Alibaba Group, are playing an important role in advancing artificial intelligence, from facial recognition to more futuristic incarnations like self-driving vehicles.
The Baidu online search engine is investing billions of dollars annually in AI technology. Baidu has an advantage especially in voice and image recognition, with recognition rates just below 100 percent. Its AI "Baidu Brain" beat top human contestants in voice and image recognition last January 6.
Chinese e-commerce giant Alibaba has launched "City Brain," an artificial intelligence hub using big data to help build smart cities. In September 2015, Tencent stunned the media world with its robot journalist, called "Dreamwriter." According to media reports, the robot produces a 1,000-word news report in one minute. Tencent achieved a record face recognition rate of 99.65 percent in LFW (Labeled Faces in the Wild) Database last June.
Undoubtedly, in recent years, China is much ahead of any other BRICS countries in AI domain, in terms of resources like infrastructure, research and talent pool. According to the Global Innovation Index 2017, China is number one in high-tech export in knowledge output domain. And India has been ranked the top exporter of information and communication technology (ICT) services.
As per a report in World Economic Forum on Artificial Intelligence (AI) 2017, the AI Maturity Index score of companies in India and China is much higher than of US companies. As such China and India should work together under the framework of "Digital India" and China Internet Plus (CIP) plan to induce AI in BRICS. This cooperation can improve the life of almost 42 percent of the world's population.
However, AI technology may lead the world in the fields of transportation system, education, medical care etc, but with it comes the responsibility towards humankind, as President Xi Jinping warned in his speech at the 12th G20 Hamburg Summit on July 7, 2017. He said: "According to the projections of the World Economic Forum, artificial intelligence will wipe out more than five million jobs in the world by 2020, requiring adherence to the principle 'AI for the people, by the people'."