Virginia exposes face of racism in US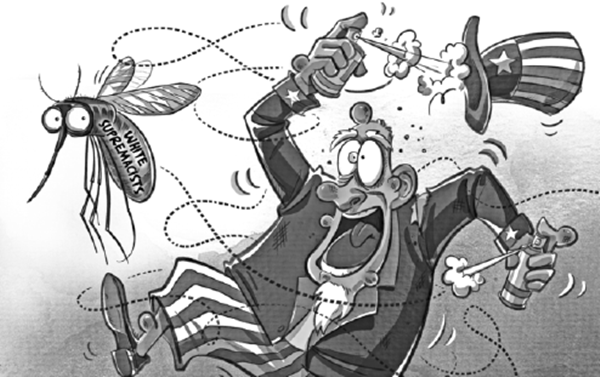 SONG CHEN/CHINA DAILY

Editor's note: US President Donald Trump condemned white supremacists by name on Monday, two days after a white supremacist protest in Charlottesville, Virginia, turned violent and shocked the country. One woman was killed and more than 20 people were injured in a car attack, with over 30 being injured in clashes between white supremacist groups and counter-protesters. And two police officers trying to quell the unrest died when their helicopter crashed. Two scholars share their views on the incident with China Daily's Cui Shoufeng. Excerpts follow:
Trump likely to seek temporary remedies
The Charlottesville violence reflects the social divide in the United States in terms of racial and identity issues, which have made US citizens' efforts to determine their social and cultural identity even more difficult. Trump's initial response-blaming "all sides" for the violence unleashed by Ku Klux Klan, neo-Nazis and other white supremacist groups on Saturday-is surely a bummer.
But the US' struggle to achieve interracial harmony goes way back. The sheer numbers of white supremacists and those rallying against the hate groups may not have been surprising for many. An estimated 400 people joined Friday night's "torch parade", and probably more than 1,000 were behind the barricades in Emancipation Park, where stands a statue of Confederate General Robert E. Lee, who commanded troops of the pro-slavery Confederacy in the American Civil War.
But their gathering was well orchestrated. The tragedy began unfolding when a white nationalist rally was organized to oppose a plan to remove Lee's statue from the park. Armed with hundreds of torches, shouting racist chants, with some wearing Confederate army uniforms and sporting "flashy haircuts", the protesters put on a show of strength on Friday. The next day, they marched in martial formations with arms reminiscent of a paramilitary force.
Social policies adopted by US administrations since the mid-1960s have failed to eliminate racial bigotry. And the resurgence of white supremacists after almost five decades suggests the racial divide runs deeper in US society.
Trump's poor judgment and handling of domestic affairs aside, his administration has also been criticized for its inclination to create divides. And given Trump's relatively short track record, he is more likely to seek temporary remedies, rather than a permanent cure, for the Charlottesville-like violence.
Li Haidong, a professor at the Institute of International Relations, China Foreign Affairs University
US president must take sides to ease tensions
The shocking incidents in Virginia have forced many to wonder whether it signals the beginning of chaos in US society. The violence shows Lee's statue is no longer only about history, it also represents confusion over identity.
For white supremacists, being American is not enough to describe their identity, for they believe race and religion are integral to their identity. In their defense, some KKK supporters said they have no problem with African-Americans and don't want to relive the past of racial segregation. What they want is that everyone has to belong to his or her own respective group-in other words, they seek social insulation, another form of segregation.
Such identity appeal could be behind the Charlottesville violence. Those enshrining Lee, an outspoken advocate of slavery, could not accept the fact that African-Americans had been given equal access to resources which were once exclusively owned by the whites.
The Civil War to which Abraham Lincoln lost his life was a watershed in US politics. Although all citizens' civil rights have been protected by the Constitution since then, it still took the once underprivileged more than a century to actually enjoy those rights. Barack Obama's election as the president of the US in 2008 may have been the crowning glory in the fight against racism, but racism in the US never really died.
Trump's immediate response to the Charlottesville violence, in which he refrained from condemning the white supremacists by name, is indeed questionable. His overdue censure, too, conveys a mixed message, because he stopped short of describing Saturday's violence as an act of terrorism as many of his top aides had done. Taking the right side is the least Trump could do to mitigate racial tensions.
Sun Xingjie, an associate professor at the School of International and Public Affairs, Jilin University