Boycotting Chinese goods would harm India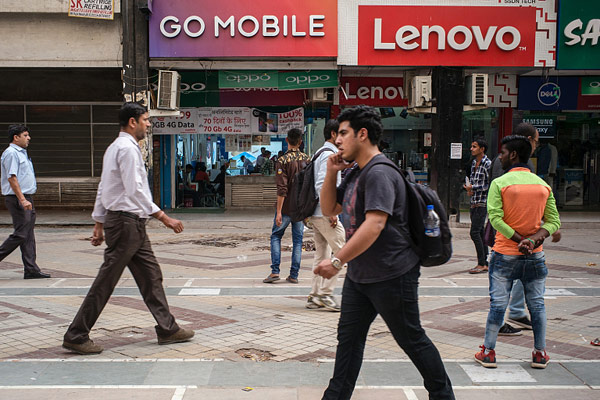 A pedestrian using a smartphone walks past stores selling mobile phones and accessories at the Nehru Place IT Market in New Delhi, India, May 30, 2017. [Photo/VCG]
The ongoing standoff between the Chinese and Indian troops in China's Donglang area seems to have spilled over into bilateral exchanges. According to reports, Shobha Karandlaje, Karnataka provincial general secretary of India's ruling Bharatiya Janata Party, has voiced support for a campaign against Chinese goods sponsored by the radical right-wing group Rashtriya Swayamsevak Sangh.
She also urged her party to "create awareness among the people about the problems caused by China at the border and the need to boycott Chinese goods". Boycotting Chinese imports, she believed, would teach China a lesson because "the economy of China is largely dependent on Indian markets".
In one way or another, Karandlaje was bluffing-for no good reason. Her perception of China's "economic reliance" on India is laughably wrong. China's trade surplus with India, its seventh-largest export market, reached $45 billion last year, but its exports to India accounted for just 2 percent of its total export volume. For India, China is its biggest trade partner and home to about 3.6 percent of the South Asian state's total exports.
Suffice to say, calling for the boycotting of Chinese products and those related to Chinese investors is not just a fool's errand but also risks backfiring. The truth is, China is no stranger to such "protests", most of which have ended up going down the drain partly due to the lack of participants.
The Rashtriya Swayamsevak Sangh has organized a 15-day "Boycott Chinese Products" campaign, and said the latest boycott, led by the group's economic wing Swadeshi Jagaran Manch, has received "huge support". But Chinese investments are resilient and Chinese goods are welcomed in India not only because they are affordable, but also because they match the market demand. It is the Indian economy that will suffer because of the boycott.
Chinese cellphones have grabbed over 50 percent of the market share in India, and are mostly assembled locally. Any attempt to keep them at bay or shut down Chinese-invested factories will hurt the Indian economy and cost Indian jobs.
Compared with imports from the West that boast advanced industrial chains, Chinese products are probably the only affordable, user-friendly choice for Indian consumers, owing to the fact that China and India are the world's two largest emerging economies. Beijing also has the need to transfer some of its excessive capacity; and India is among the most suitable destinations. The bilateral trade ties may be subject to turbulence if the boycott gets out of hand.
And the latest campaign against Chinese goods might not necessarily stem from the simmering border row between the two countries, because similar attempts to "play the economy card" and arouse nationalistic sentiment have appeared when regional elections approach. It is not likely to go far in pushing for a "complete ban" on Chinese imports, and the Narendra Modi administration is yet to make concrete moves to endorse the boycott.
But it is never too early for Chinese investors to protect their joint ventures in India, as China will not compromise in the face of the Indian troops' transgression.
Mao Keji is a researcher at the School of Social Sciences, Tsinghua University. The article is an excerpt from his interview with China Daily's Cui Shoufeng.