Emojis? They're more than just a smiley face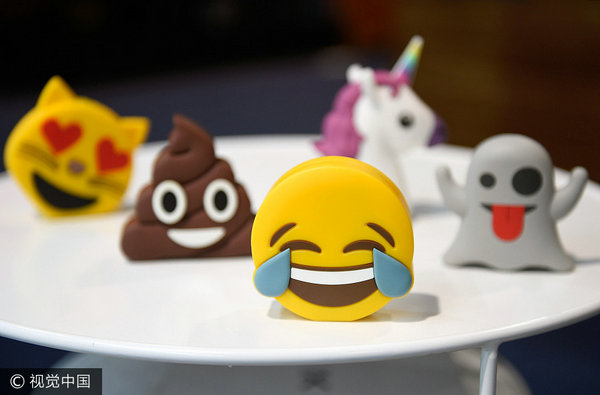 [Photo/VCG]
Who knew, until it was published in China Daily and other media outlets this week, that there is an international nonprofit agency that zealously maintains global standards for emojis?
The Unicode Consortium, which develops international standards for text and symbols used in software for computer devices and mobile phones, has just announced 67 more of the pesky little pictograms for adoption next year.
Popularized by the Japanese from the early 2000s, emojis-from the Japanese for picture and character-started off with the "smiley face/sad face" combo with which even the most out of touch computer illiterate is now familiar. Since then emojis have evolved into a vast character set of symbols for every occasion that is now almost as extensive as an actual language.
Maybe it's an age thing, but this development raises the question among us from the Neanderthal age before social media: Why not just stick with language? After all, "I love you!" is probably still more effective as an expression of affection than a measly pixel picture of a heart.
And what if you don't understand the language? Most people in most cultures can correctly interpret the sentiment behind a smiley face, but what do you make of the social media friend who texts you a picture of a smoking bomb or something that looks like a dead sheep?
The emoji language has evolved to take account of cultural sensitivities and cultural differences-faces, both smiley and sad, now come in all colors. Some are country-specific-the Japanese have bowing businessmen and ramen noodles. Others incorporate Chinese characters, familiar to some but not to most.
Favorite foods and cute animals are a mainstay of the emoji world. New symbols being considered for 2018 include bagels and cupcakes, llamas and raccoons.
The development of emojis, like most phenomena of the internet age, has inevitably attracted academic attention as researchers endeavor to determine what it all means. At the start of this year, researchers at the University of Michigan and Peking University announced the result of an analysis of 427 million messages from nearly 4 million smartphone users in 212 countries and regions. Everywhere the "face with tears of joy" emoji is the most popular, except for France where the heart still rules, the study found.
The emoji revolution seems unstoppable, not least now that the concept has been enshrined in The Emoji Movie, a 3D computer-animated Hollywood extravaganza that screened this year. The hero is Gene, an emoji that lives in Textopolis, a digital city inside the phone of his user Alex.
Before that, US celebrity Kim Kardashian introduced her own range of 500 personalized "Kimojis", having hired a personal designer to develop them. Heart-shaped pizza, anyone?
A turning point of sorts came in 2015 when Oxford Dictionaries for the first time chose a pictograph-"face with tears of joy"-as its word of the year. The publisher noted that emojis were no longer the preserve of texting teens and had now been embraced as a nuanced form of expression, and one which can cross language barriers.
We oldies may gripe about the inanity of the emoji craze and harrumph about the decline in linguistic standards, but Oxford Dictionaries may have a point. Anything that enhances cross-cultural communication can't be all that bad, and pictograms could be the ideal medium. Chinese, for example, despite the challenges the written language imposes on non-native learners, uses a character set that renders it readable to a vast population that speaks sometimes mutually incomprehensible dialects.
Maybe a day will come when emojis, or some version of them, enter the school syllabus as a compulsory subject for aspiring internationalists.
The author is a senior editorial consultant for China Daily. harveymorris@gmail.com