Poor picture of health in Shanghai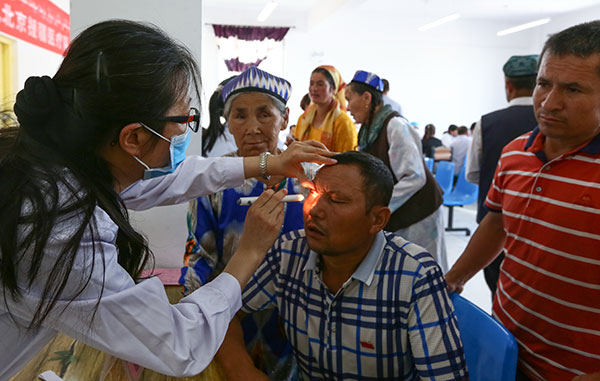 Liu Weihua, an eye doctor from Beijing Tongren Hospital, checks a resident of Hotan, in the Xinjiang Uygur autonomous region, earlier this month.[Xu Zhuzhu/For China Daily]
A REPORT ON THE HEALTH of Shanghai's white-collar workers suggests that last year over 95 percent of those surveyed had outstanding health problems, about 8 percent higher than that in 2011. Thepaper.cn commented on Thursday:
Many Shanghai white-collar employees are overweight and suffer from fatty liver and severe hypertriglyceridemia, all caused by unhealthy diets and schedules, according to the report. The unpromising health examination results seem to contradict the exercise craze over the past few years.
People nowadays are more aware of the need to exercise regularly and eat healthily. Running marathons, in particular, has become a favorite pastime of many urbanites. In 2013, there were only 39 marathons registered with the Chinese Athletic Association; the number had rocketed to 328 in 2016, when nearly 2.8 million marathon runners signed up for the events. It is a trend that looks set to continue.
Statistics also show more than 70 percent of Chinese runners have a bachelor's degree or above and decent white collar jobs, it is thus bewildering that so many white-collar workers fail to benefit from their financial independence and the growing love for sports.
It is possible that many do not follow scientific instructions while working out or their dietary plans are flawed. But a previous report issued by the State General Administration of Sport may offer a more plausible explanation: some gym enthusiasts who post photos of their workouts are simply posing.
Less than 34 percent of the interviewees work out on a regular basis, according to the report, and the figure would drop to around 10 percent if students and servicemen are excluded. Either way, the long-distance running craze does not tell the whole story. Those who do not exercise enough must pay close attention to their health.