Japan must stop stirring up trouble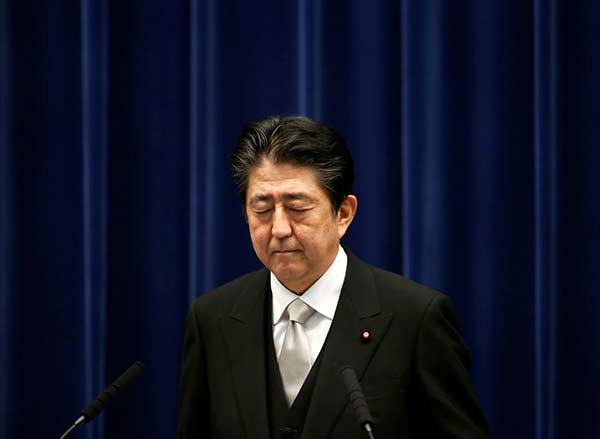 Japan's Prime Minister Shinzo Abe attends a news conference after reshuffling his cabinet, at his official residence in Tokyo, Japan, August 3, 2017. [Photo/Agencies]
Japan has made no secret of its disappointment with the Association of Southeast Asian Nations after its 10 member states and China approved the framework for a Code of Conduct in the South China Sea in Manila on Sunday and pledged to hold further negotiations.
Going a step further, Japan, Australia and the United States issued a statement on Monday, asking ASEAN and China to establish a set of rules that would be "legally binding, meaningful, effective and consistent with international law", which is actually an attempt to encourage ASEAN members to confront China.
ASEAN and China also agreed to hold a meeting later this month to deliberate the modalities for finalizing the Code of Conduct based on the approved framework.
But Japan is not comfortable with China-ASEAN relations improving after the two sides worked overtime to find ways to peacefully resolve the South China Sea issue.
The Nikkei Shimbun said that with the Philippines, which had taken the toughest stance against China, resorting to a friendly China policy under President Rodrigo Duterte, ASEAN's unity over the South China Sea issue has collapsed. The Philippines' positive response to China's proposals and ASEAN's consent to the Code of Conduct framework have placed Japan and the US in a situation they find difficult to deal with.
Yomiuri Shimbun, too, seemed disappointed by ASEAN for issuing a joint statement without mentioning China by name while stressing the importance of "non-militarization" of the South China Sea. An editorial in the newspaper called the South China Sea an important sea lane for Japan and the US, in order to justify the two countries' attempts to intervene in the regional maritime issues.
The editorial said China is using dialogue with ASEAN to buy time and dilute the substance of the code, adding that the envisaged Code of Conduct will be written in a manner that would approve of China's attempt to change the status quo by force. It also said that if the divisions among ASEAN's members continue to widen in the face of China's influence, they will sap the bloc's strength.
At a meeting with his Vietnamese counterpart Pham Binh Minh in Manila on Tuesday, Japanese Foreign Minister Taro Kono said Tokyo hopes to promote security and defense cooperation with Hanoi, including supplying it with patrol ships.
Japan, Australia and the US also urged China and the Philippines to abide by last year's "international arbitration ruling" that repudiated Beijing's legitimate sovereign rights in the South China Sea.
Philippine Foreign Affairs Secretary Alan Peter Cayetano was quick to respond to Japan and other countries, saying Manila would appreciate not being told what to do in its maritime territorial dispute with China.
Trying to drive a wedge between ASEAN and China, Japan released its annual defense white paper on Tuesday that says China's military activities are escalating tensions. And Japan's Ministry of Defense has vowed to maintain strong "vigilance" against China's military activities, which it says will intensify around Japan.
China and the Democratic People's Republic of Korea are the ready excuses that Japanese Prime Minister Shinzo Abe has used to strengthen Japan's Self-Defense Forces. Since becoming prime minister in 2012 for the second time, Abe has revised the pacifist Constitution to allow the SDF to engage in conflicts overseas, raise the defense budget every year and ease curbs on weapons exports.
The Japanese Defense Ministry is likely to seek a fat budget, of more than $45.48 billion, for fiscal 2018, according to the Nikkei Shimbun. Among its plans to build military muscle, Japan is scheduled to establish an Amphibious Rapid Redeployment Bridge by March 2018 to counter possible attacks on its remote islands by China. And one day after being appointed defense minister, Itsunori Onodera said Japan should consider developing weapons that could hit the DPRK's missile bases.
That, if realized, would be a drastic change in Japan's defense posture.
On Tuesday, Japanese fighters conducted air drills with US B-1B bombers that are capable of carrying nuclear bombs in Japanese skies close to the Korean Peninsula. To maintain peace in the region, Japan should stop trying to stir up trouble.
The author is China Daily Tokyo bureau chief. caihong@chinadaily.com.cn