Navy on dual mission of defense and peace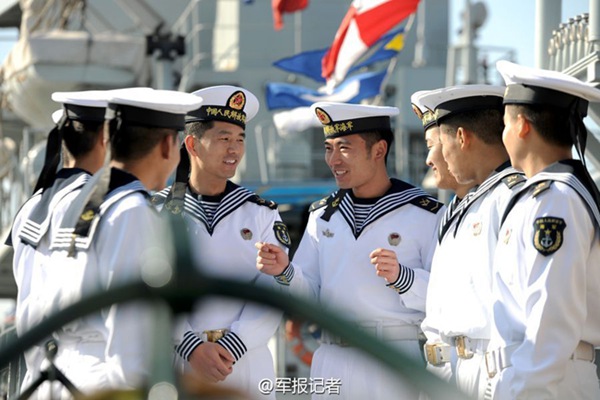 Eight corporals and sergeants in their new sailor uniforms stand on the deck of the mine sweeping ship Jingjiang of a maritime garrison command of the East China Sea Fleet, the Chinese People's Liberation Army Navy (PLAN), on January 1, 2015.[Photo/PLA Daily]

Zhang Junshe [Photo/China Daily]
A high point of the 90th anniversary of the founding of the People's Liberation Army, which falls on Aug 1, should be the increasing might of the PLA Navy, which launched its first domestically built destroyer in June and first "homemade" aircraft carrier in April. The destroyer is expected to have cutting-edge air defense, missile defense, anti-ship and anti-submarine missiles when it is commissioned for duty early next year, while the aircraft carrier will lead combat and defense missions as well as non-combat missions such as anti-terrorism and anti-piracy operations.
The two large vessels are just a glimpse of how far China has come in its pursuit of naval prowess. From a collection of elementary warships to a combination of submarines, surface vessels, airmen, marines and coastal defense troops, the PLA Navy now has multiple versatile forces that can engage in both conventional and nuclear combats. Its capability to safeguard sovereign and security interests, as well as conduct sophisticated modern naval missions, too, has greatly improved.
China developed its first-generation warships, including guided missile destroyers, nuclear-powered attack submarines and missile destroyers before the mid-1970s. In the 1990s, the second-generation guided missile destroyer, or CNS Harbin, joined the naval fleet, reflecting Chinese warships' focus on versatility and open sea operations. The Type 052C-class destroyers, the third-generation vessels in the line, were equipped with point and area defense systems.
The successful landing and takeoff of J-15 fighter jets on the CNS Liaoning, the country's first aircraft carrier, marked a key breakthrough in naval operations. The deployment of naval air troops, the commissioning of several nuclear-powered submarines and two aircraft carriers, and the successful underwater launch of a carrier rocket have propelled the PLA Navy further offshore and enabled it to conduct defense operations in the open sea.
The PLA Navy has also expanded its overseas peacekeeping missions. In 2008, a flotilla comprising destroyers CNS Wuhan and CNS Haikou, and supply ship CNS Weishanhu, left for the Somali coast in the navy's first attempt to protect important shipping lanes and fulfill humanitarian duties in the open sea.
Over the past eight years the PLA Navy has sent 26 flotillas to escort about 6,400 ships from China and other countries, an achievement that has been praised worldwide. In 2009 the Chinese escort flotilla was praised by the International Maritime Organization under the United Nations for performing peacekeeping duties in the Somali waters.
Moreover, the PLA Navy helped evacuate both Chinese and foreign nationals from war-stricken Libya and Yemen in 2011 and 2015. And Chinese hospital ships have sailed to a number of African, Asian and South American countries to provide medical aid for local residents since 2010.
Efforts like these have become an integral part of China's foreign aid, proving that the country has fulfilled its international obligations. They have also enhanced China's reputation as a responsible major power that seeks to maintain constructive interaction with other naval powers. Chinese navy personnel, too, have benefited a great deal from the overseas training and missions, and the deepening cooperation with their foreign counterparts, which will better prepare them for unforeseen challenges.
The author is a senior researcher at the Naval Military Studies Research Institute of the People's Liberation Army. The article is an excerpt from his interview with China Daily's Cui Shoufeng.