China not responsible for US trade deficit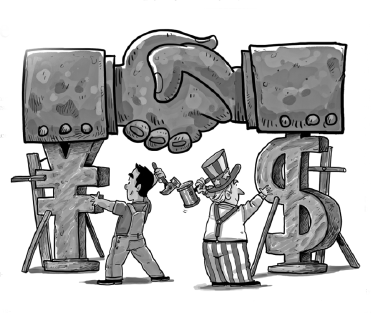 CAI MENG/CHINA DAILY
Editor's note: How to improve China-US trade and how Washington can reduce its trade deficit with Beijing are issues affecting bilateral ties. Three experts share their views on these issues with China Daily.
Reciprocal arrangement to boost bilateral trade
Washington blames Beijing for its trade deficit, and criticizes China's steel exports, market environment, and restrictions on the entry of foreign capital into some industries. Beijing, on the other hand, is unhappy with US restrictions on the export of high-technology products to China, and the standards and lack of transparency of Washington's security review mechanism on foreign investment.
Steel overcapacity is a global concern. Yet the United States imposes anti-dumping and countervailing measures against Chinese steel products, with the tariff on some items being as high as 500 percent, which is nothing but trade protectionism.
Since all these issues could not be resolved at the US-China Comprehensive Economic Dialogue in Washington on July 19, the two countries need to deepen communication on trade issues, in order to reach a consensus on how to objectively view the trade imbalance and make coordinated efforts to gradually rebalance bilateral trade.
China can moderately increase the import of US agricultural products, if in return Washington lifts the restrictions on Chinese agricultural products. The reciprocal arrangement of the 100-Day Action Plan-the US exporting beef to China and China exporting chicken to the US-is a good example of how the two sides can strike a mutually beneficial deal.
Also, China wants to import more US high-tech products, for which Washington has to lift the restrictions on the sector as early as possible. To correct the imbalance in bilateral trade, China can also increase its investments in the US, but the US, in return, has to make its investment security review mechanism more open and transparent, and resume the talks on the bilateral investment treaty as soon as possible.
Moreover, China can consider opening up its service sector more expeditiously, and importing more oil and natural gas from the US. In return, however, the US has to create a favorable cooperative atmosphere.
Huo Jianguo, a researcher at the Center for China and Globalization and vice-chairman of the China Society for World Trade Organization Studies