In Gulf row, Trump is elephant in room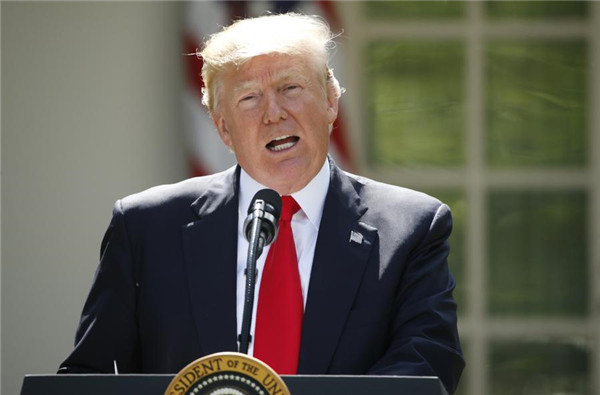 US President Donald Trump announces his decision that the United States will withdraw from the landmark Paris Climate Agreement, in the Rose Garden of the White House in Washington, U.S., June 1. [Photo/Agencies]
The deep rift between Qatar and major Arab powers has triggered a crisis, arguably the biggest, for the 36-year-old Gulf Cooperation Council. Accusing Doha of supporting "terrorism" and financing "groups" linked to Iran, eight countries including Saudi Arabia, Egypt, Bahrain and the United Arab Emirates severed diplomatic relations and transport links with Qatar despite the latter's vehement denial that it had such links.
China has expressed hope that the Arab states will resolve the dispute through dialogue and consultation, and maintain unity and promote peace and stability in the Middle East. China is the largest trade partner of Qatar, which accounts for nearly 20 percent of China's liquefied natural gas imports.
The unprecedented Gulf row started two weeks after US President Donald Trump visited Saudi Arabia on his maiden foreign trip. In a tweet on Tuesday, Trump said his trip to the Middle East was "already paying off", backing Saudi Arabia and other Arab states in their move to isolate Qatar (which ironically is an US ally) to which "all reference" regarding "funding extremism" points.
The row between the Sunni Muslim-ruled states points to the longstanding divide among Arab states, and highlights the difference in their understandings of and approaches to regional affairs, especially the dispute between an established big player (Saudi Arabia) and a rising one (Qatar) close to the Muslim Brotherhood and Shi'ite-majority Iran.
Riyadh's snap decision to "punish" Doha is more about reiterating its GCC leadership and showcasing its strength to Teheran. Since other GCC members such as Kuwait have engaged in mediating reconciliation, it is likely that the Qatari government, which has exercised restraint in the face of isolation, will back down and revise its role as a power broker in the Arab world.
It is apparent, though, that Qatar will have to change its "maverick" stance on Iran and political Islam to keep its GCC membership. Still, Doha might refrain from drawing a line in the sand against Teheran, which it shares natural gas fields with, in a display of diplomatic independence.
For many political observers, Trump is the real elephant in the room-as his recent visit to the Middle East "triggered" the discord. The US president unequivocally backed Riyadh while making known his ambition to contain Teheran, which, to some extent, emboldened Riyadh and its allies to impose sanctions on Doha, laying bare the Trump administration's Middle East policy: Reinstating the anti-Iran military alliance with regional powers, particularly Saudi Arabia and Israel, and swinging behind them in the fight against terrorism without getting involved.
Obviously the United States does not want Qatar to maintain close ties with Iran and open channels with extremist groups like al-Qaida. Nor does it want to risk pushing Qatar, home to the largest US air base in the Middle East, toward Iran by imposing harsh conditions on it. Trump had offered to help Qatar and the other Gulf allies settle their disputes one day after posting the baffling tweet. But the mediation will not be easy as Saudi Arabia and Qatar both have concerns about their end of the bargain.
The consequences of the continuing standoff may lead to fresh confrontations, adding to the risk of an intensified arms race. Political Islamic groups such as Hamas and the Muslim Brotherhood will face a strong headwind, yet sectarian clashes might increase, further complicating global efforts to combat extremism.
The author is a professor at the School of Foreign Studies of the University of International Business and Economics.