Theresa May's gamble leaves Britain adrift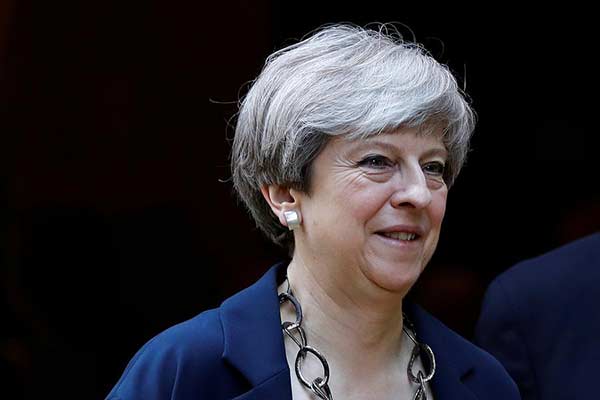 Britain's Prime Minister Theresa May leaves after a church service in Sonning, Britain June 11, 2017. [Photo/Agencies]
It must have seemed like such a good idea at the time. With a 20-point lead in the opinion polls, British Prime Minister Theresa May's decision to hold a general election was a clever and opportunistic attempt to capitalize on the Conservative party's popularity, at the expense of the opposition Labour party's weakness.
But with the Conservatives ending the night eight seats short of a majority, it is now destined to go down as one of the worst miscalculations in modern British political history.
The prime minister proved to be a wooden campaigner and a reluctant media performer —— refusing TV debates with the other party leaders. On the other hand, Jeremy Corbyn, leader of the Labour party, had a good campaign. He rose above the low expectations of much of the media and political class and attracted voters with his mild manner and apparent authenticity. Expectations for him were so low he can treat his defeat as a victory.
Of course, the prime minister didn't need to do this; she could have continued until 2020 with her small but adequate majority.
Perhaps May had another prime minister in mind when she decided to call the election —— the ill-fated Gordon Brown. Like her, he came to power without having to fight a general election, and, like her, enjoyed high poll ratings during his first few months in power. Brown flirted with the idea of calling an election before eventually losing his nerve, going on to lose the general election in 2010. Was May trying to avoid a similar fate?
Certainly, there is likely to have been more behind her decision than her stated reason of trying to override parliamentary opposition to Brexit.
For now, thanks to the support of a small Northern Ireland party, the Conservatives can stay in power, but May will not be part of that equation for long. She is in office, but no longer in power. Her chief advisors are gone, and she will likely follow soon.
The immediate result of the election is that Britain must wrestle with a domestic political crisis at a critical time for the country –– Brexit negotiations begin on June 19.
Officially May intends to continue with her plans to negotiate Britain's exit from the EU, including its single market. Yet her authority has been fatally wounded by the election.
European leaders will know they are dealing with a leader on borrowed time and that the government only has a wafer-thin parliamentary majority to force any Brexit deal through the House of Commons.
A weaker government weakens Britain's negotiating hand.
Of course, throughout all this, the government will be at the mercy of the Democratic Unionist Party –– the Northern Ireland party lending its votes to help pass the government's program through parliament.
We are now likely to see three key consequences of the prime minister's failed gamble.
First, there will be renewed attempts to sabotage Brexit. While both the Labour and Conservative parties are committed to leaving the bloc, a majority of politicians remain opposed. There will be a renewed emphasis on pursuing a "softer" Brexit, perhaps with attempts to get Britain to remain in the single market. Any eventual deal that doesn't give the UK the ability to control its borders will anger the millions of voters who voted to leave motivated by high levels of immigration.
Second, the EU will likely try to take advantage of the weak government during the opening stages of the negotiations, especially when it comes to presenting Britain with its estimation of the exit bill to leave the bloc. The numbers that had already been floated were considerable and the EU needs the money —— it will have a big hole in its budget once the UK has left.
However, a government with a small majority will not be able to afford to pay any figure that could cause a rebellion within its own ranks —— the EU may well overplay its hand.
Finally, the Conservative party may return to the dark days of the 1990s, when a weak leader presided over a party tearing itself apart over Europe. The party is now considerably more Eurosceptic than it was during the time of John Major, but it is still home to a wide range of views on the issue. With a weak leadership negotiating Brexit, the various factions in the party will now fight for their particular type of Brexit to be the country's negotiating aim.
For Theresa May, her "strong and stable" campaign slogan will haunt her for the rest of her political life. She had warned voters about supporting Labour, promising it would lead to a "coalition of chaos".
But it is May who now presides over chaos, without the luxury of a coalition.
This election was Theresa May's to lose. She owns this defeat, and Britain is poorer for it.
James Skinner is a contributing editor at China Daily with an MA in International Relations. He has a particular interest in British and American politics, as well as global security issues.