A boon to community of shared destiny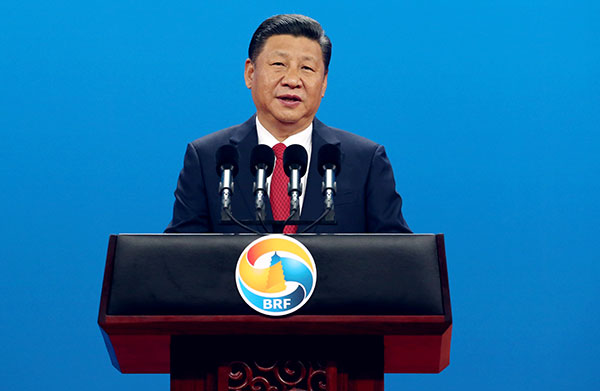 President Xi Jinping delivers a keynote speech at the opening ceremony of the Belt and Road Forum for International Cooperation in the National Convention Center in Beijing on May 14, 2017. [Wu Zhiyi/China Daily]
Proposed by President Xi Jinping four years ago, the Belt and Road Initiative is progressing smoothly and fruitfully today. And such has been the impact of the proposal that at least 28 heads of state and government have agreed to attend the Belt and Road Forum for International Cooperation in Beijing on May 14-15.
China is not the only country to realize the necessity of improving infrastructure in the developing countries and regions to propel global economic growth. In 2011, the United States, led by then president Barack Obama, proposed similar plans for Indian-Pacific Oceans Economic Corridor and the New Silk Road, which links Afghanistan and Central Asia, have not gotten much traction.
That the Belt and Road Initiative, comprising the Silk Road Economic Belt and 21st Century Maritime Silk Road, is making notable progress has a lot to do with the advantages China enjoys in infrastructure construction and financial capability, and the complementary nature of its economy to other economies.
Poor Infrastructure is bottlenecks for development in most developing countries along the Belt and Road routes. For example, Asia needs infrastructure investment of $1.7 trillion per year and Africa nearly $1 trillion. China sees their demand for infrastructure and financing as an opportunity for a win-win cooperation.Accounting for more than half the global production of infrastructure materials such as cement and steel, China can build infrastructure facilities at competitive costs and speed. China's considerable foreign exchange reserves of some $3 trillion, current account surplus and high household savings rate, which account for roughly half of its GDP, also help it to fund projects, especially infrastructure projects, at home and abroad.
Moreover, China's comparative advantage in labor-intensive manufacturing is dwindling. To avoid middle-income trap, China needs to upgrade to more capital/technology-intensive industries. China's industrial upgrading opens the window of opportunity for other low-income countries to enter the labor-intensive manufacturing. Experiences after the WWII showed that whichever low-income countries capture the window of opportunity can grow dynamically for several decades and become middle- or even high-income countries..
The low per capita GDP of some economies along the Belt and Road routes suggests that a big percentage of local laborers still work in low-value-added industries like agriculture. Once the infrastructure in these economies is improved, they will become more capable of absorbing the transfer of China's labor-intensive industries. In particular, China's manufacturing industry that employs 125 million workers with 85 million in light manufacturing could help the economies along the Belt and Road routes simultaneously achieve industrialization and modernization.
China's success in finding a dynamic development path also provides relevant experiences for other developing economies. Simply following in the West's footsteps did not help many developing economies to alleviate poverty to the extent they wanted. In this context, China could be an inspiration and a source of lessons for other developing economies, because they have more in common with it when it comes to conditions of economic development.
Many economies in the West, despite their limited need for infrastructure assistance, have welcomed the Belt and Road Initiative. If developing countries remain mired in sluggish growth, the West will have to bear the extra burden — for example, the influx of asylum-seekers in Europe. In addition, Europe and the United States still felt the pain of slow growth and high unemployment from the 2008 global financial crisis. To get rid of that pain, the West requires demands for their exports to resume growth and generate jobs from dynamic growth in developing countries.
Of course, it will take time for the Beijing-proposed initiative to take effect, but the upcoming forum could strengthen its sustainable growth strategy.
The author, a former chief economist at and senior vice-president of the World Bank, is director of the Center for New Structural Economics, Peking University. The article are excerpts from a keynote speech he delivered at a recent seminar at Peking University and his interview with China Daily's Cui Shoufeng.