Move to protect US steelmakers is against norms of world trade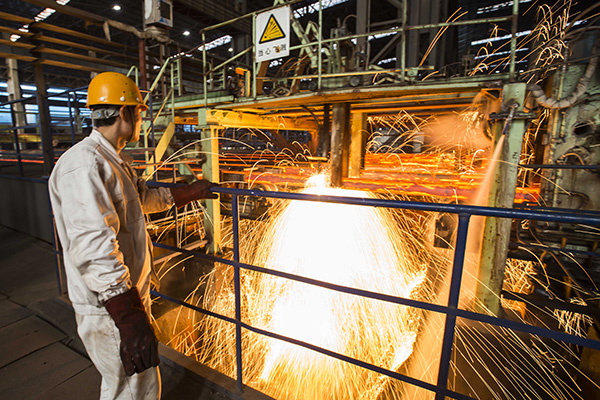 A worker at a steel company in Lianyungang, Jiangsu province, in January 2015. [Photo/China Daily]
Announcing that the United States will investigate whether foreign steel imports harm the country's national security, US President Donald Trump and Commerce Secretary Wilbur Ross have sent an unmistakable message to the big US steelmakers that they will protect them.
National security is rightly a top priority for any country, so it would be understandable if the Trump administration was taking the move to close any potential national security loopholes. But it is not.
Trump on Thursday revealed that the move had been taken simply to help bring back manufacturing jobs to the US, one of his key campaign promises.
"For decades America has lost our jobs and our factories to unfair foreign trade," Trump said. "And one steel mill after another has been shut down, abandoned, and closed. And we're going to reverse that."
What he did not say is that the US' manufacturing decline does not come from unfair competition from foreign producers, rather, it is a natural outcome of the country's high labor costs and domestic market-driven economic restructuring over the past decades.
It is clear that national security is only an excuse to justify the real aim of blocking foreign products to benefit the domestic steel industry. The probe, which will be led by Ross, could result in recommendations on curbing steel imports that will affect the interests of a number of the US' major trade partners, including China.
Yet reducing imports of foreign steel products will not alter the weak competitiveness of US steelmakers. Instead, if the US does take protectionist measures, then other countries are likely to take justifiable retaliatory actions against US companies that have an advantage over those countries in fields such as finance and high-tech, leading to a tit-for-tat trade war that benefits no one.
Trade is indispensible for healthy and sustainable global growth. When disputes arise, the involved parties should resort to the dispute settlement mechanism under the World Trade Organization. It may not be perfect for settling trade disputes, but it is the best mechanism there is to maintain order in the global trade system.
By proposing an unjustified investigation into steel imports in the guise of safeguarding national security, the US seems to be resorting to unilateralism to solve bilateral and multilateral problems.
Unfortunately, it will be hard for it to revitalize its steel industry and the move is only likely to arouse anger from its trade partners, contributing further instability to global trade and the world economy.