No party can fulfill peninsula peacemission single-handedly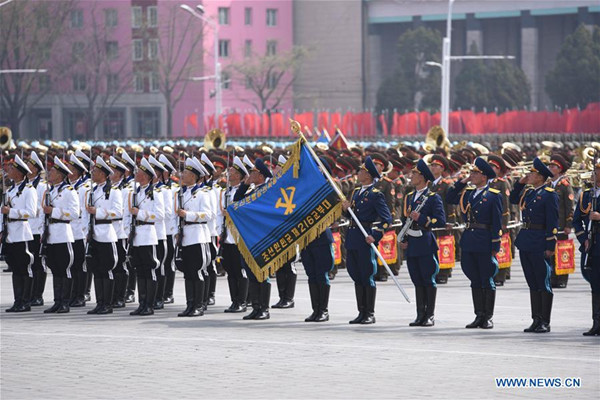 Soldiers attend a military parade in central Pyongyang, April 15, 2017. [Photo/Xinhua]
Even as US Vice-President Mike Pence reiterated the era of "strategic patience" is over. Even as Pyongyang pledges to conduct another nuclear test "at any time", and carry out missile tests on "a weekly, monthly and yearly basis". The most impressive progress so far regarding the Democratic People's Republic of Korea's nuclear/missile threats is the United States' latest indication that it, too, prefers a peaceful solution.
China, Russia and the US finally seem to have reached a consensus on the proper approach to a common headache.
Their shared concern brought the three together to endorse the condemnations and sanctions of the United Nations. Divergences in their approaches, however, left loopholes that have undermined the effectiveness of the sanctions.
Whether because of restraint or inability, that the usually provocative Pyongyang did not conduct an anticipated nuclear test last weekend has been followed by considerable easing in the tense standoff once broadly seen as nearing breaking point.
The relative calm that now exists offers a precious window of opportunity for stakeholders serious about perpetuating it. It will not last long.
It is hard to imagine that Pyongyang will forsake its nuclear pursuit, because that is the only leverage, or bargaining chip, it has.
Pyongyang may soon fire another missile, even detonate another nuclear device, if it sees no immediate threat. It can't afford extreme tensions, but neither can it live without them.
The constant growth of the DPRK nuclear threat testifies to the need for solidarity among key stakeholders, China, Russia, the US and Republic of Korea in particular. Their failure to get Pyongyang to toe the line originates in large part from their inability to speak in one voice.
The continuous difficulty in maneuvering major-power unanimity on the wording of a new UN condemnation at the Security Council is indicative of the diverse concerns setting them apart.
Now that even the once tough-talking Donald Trump is onboard for a peaceful solution, and all parties except Pyongyang want a nuclear-free Korean Peninsula, the prospect has never been so bright for dissuading Pyongyang without the use of force.
Beijing has demonstrated due enthusiasm for Washington's newfound interest in a diplomatic solution and willingness to work more closely with it. But as the evolution of the state of affairs on the peninsula has shown, no party can fulfill the mission single-handedly.
Washington must be aware of the limitations to Beijing's abilities, and refrain from assuming that the matter can be consigned entirely to Beijing alone.