A tribute to Xi's people-oriented thinking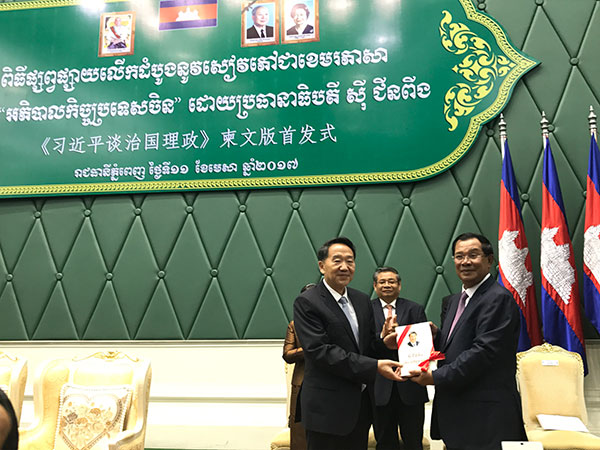 Jiang Jianguo, minister of the State Council Information Office of China, presents the Cambodian edition of Xi Jinping: The Governance of China to Cambodian Prime Minister Hun Sen during the launch of the book in Phnom Penh on Tuesday. [Photo by Xu Wei/chinadaily.com.cn]
I am very pleased to come to Phnom Penh to call on Prime Minister Samdech Techo Hun Sen and invite him to attend and witness the launching ceremony of the Cambodian version of Xi Jinping: The Governance of China. On behalf of the Department of Publicity of the Communist Party of China Central Committee and the State Council Information Office of the People's Republic of China, I would like to pay my highest tributes to respectable Prime Minister Hun Sen and all participating guests and extend my heartfelt thanks to all parties that have made contributions to the translation, publication and launching event of this book.
During his visit to Cambodia in October 2016, Chinese President Xi Jinping spoke highly of the traditional China-Cambodia friendship and praised Cambodia's social stability, rapid economic development, improved livelihood and higher international status. In the nearly five years since the 18th National Congress of the CPC in late 2012, China's economy and society have witnessed the fastest and best development, and Chinese people have benefited the most.
All these magnificent achievements have been made under the guidance of President Xi's thoughts on China's governance. Xi Jinping: The Governance of China is a concentrated reflection of the core contents of President Xi's thoughts on the governance of China, a collection of his 79 speeches on 18 topics from November 2012 to June 2014. So far, more than 6.2 million copies of this book have been circulated across the world.
A core concept that runs through Xi Jinping: The Governance of China is the people-centered thinking, which is mainly reflected in the following three aspects:
First, people-supreme value orientation. Serving the people wholeheartedly is the fundamental purpose of the CPC. President Xi Jinping has deep affection for the masses. Since he once spent seven years in the countryside in the northwest of China and served in several grassroots posts, President Xi is quite acquainted with China's basic national conditions. When he appeared before the public for the first time as general secretary of the CPC Central Committee, Xi made a solemn commitment that, as is enshrined in this book's first chapter, "people's yearning for a better life is the goal of our struggles", and "we should consistently put people in the highest position of our hearts". Since he was elected as the top leader of China, Xi has insisted on going deep into the grassroots every month to consult national affairs with the masses. Reading between the lines in this book, we can sense President Xi's deep people-oriented feelings everywhere.
Second, fair and just institutional arrangements. Over the past years, China has realized booming economic development, but it has also been plagued by some newly emerging problems, such as the income distribution issue. President Xi once used a very vivid "cake theory" to describe the problems in China, saying that China should make a "bigger cake" to lay a more solid material foundation for guaranteeing social equity and justice, and at the same time should "better divide the cake" to narrow the income gap and the divide between urban and rural areas in public services.
He has also pointed out several times that, we should make our institutional arrangements better reflect the socialist principles of equity and justice and better realize, maintain and develop the fundamental interests of the ... people, we should be in people's position and start from people's interests to plan reform approaches and formulate reform measures so that we can use effective institutional arrangements to gradually realize equity of rights, opportunities and rules and steadily advance in the direction of creating common prosperity for all Chinese people. All of Xi's such thoughts have been enshrined in this book.
Third, a "hardworking" pragmatic style. President Xi Jinping has repeatedly emphasized such practical words as "empty talks are harmful to the nation", "working pragmatically will prosper the nation", "we should carry forward the spirit of driving the nail to go right to the end under a well-devised blueprint", "we should roll up our sleeves to work harder", and "we should strive to create actual achievements that can stand the test of practices, people and history".
President Xi has also demanded that leading officials at various levels cultivate the style of "Three Stricts and Three Steadies"-be strict in cultivating one's moral character, preventing abuse of power and disciplining oneself, and be steady in planning matters, starting undertakings and conducting oneself. All of Xi's people-first and pragmatic requirements are enshrined in this book. Over the past nearly five years, Chinese people's livelihoods and well-being have considerably improved, a nine-year free compulsory education has been fully realized, and the number of college students has exceeded 37 million, with a gross enrollment ratio of more than 40 percent, higher than the average ratio of middle- and high-income countries.
The number of China's newly created urban jobs has exceeded 64 million, and China has built the world's largest basic healthcare network and largest social security network. Over the past nearly five years, China lifted more than 60 million impoverished people out of poverty, equivalent to a middle-sized country's total population. All of these jobs are a reflection of President Xi's truth-seeking and pragmatic ideological style.
The traditional friendship between the peoples of China and Cambodia goes back to ancient times and will last long. In October last year, President Xi and Cambodian Prime Minister Hun Sen made a joint announcement in Phnom Penh that the two countries will robustly push forward full strategic cooperation to continuously be good friends and good partners with high mutual trust, and to build a community of shared destiny.
When meeting Cambodian King Norodom Sihamoni and his mother Norodom Monineath Sihanouk in Beijing in March, President Xi pointed out that, to deepen China-Cambodia relations, the two countries should maintain their high-level contact momentum, pay frequent mutual visits as two relatives do, and maintain close communication and exchanges. Their bilateral strategic partnership has gathered full speed, with China being Cambodia's largest trading partner and largest source of investment for three consecutive years.
We hope very much to take the opportunity of the publication and circulation of Xi Jinping: The Governance of China to share with Cambodia its experiences on the governance of the nation, deepen bilateral pragmatic cooperation and inject endless positive energy into bilateral friendly relations.
The author is the minister of State Council Information Office. The article is an excerpt from the speech he delivered at the launching ceremony of the Cambodian version of Xi Jinping: The Governance of China in Phnom Penh, Cambodia on April 11.