Asia pushes forward to take lead in free trade and globalization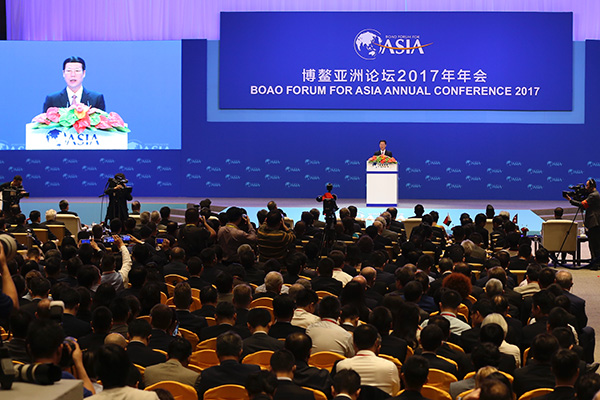 Chinese Vice-Premier Zhang Gaoli delivers a speech at the opening ceremony of the BFA Annual Conference 2017 in Boao, South China's Hainan province, March 25, 2017. [Photo by Feng Yongbin / China Daily]
Since the end of WWII, the world economies have seen a solid 70 years of economic growth and prosperity under a world system that encourages free trade and globalization. Although growth was disproportionate and not every country could maximize the benefits from the free global trading system, every country was progressing in a peaceful environment other than those being bogged down by wars.
The economic development of post-war years was a stark contrast from the pre-war years hindered by unequal treaties and brutal exploitations of colonized nations by the powers of the time. Trade agreements were anything but fair. Many colonized Asian, African and Latin American countries bore the brunt of colonial conquest and looting of their natural and national resources and were forced to accept one sided trade agreements dictated by the colonial powers leading to an imbalance in growth of colonial economies against the deprivation and depletion of colonized economies.
The world has since benefited from a fairer global system in the 21st Century. This era of peace and free global trading system is now facing mounting challenges from the threats of war and anti free trade led by the US. The US is on a path of self isolation and threatens to disrupt and destroy the free global trading system that it helped build as the undisputed leader of the free world after WWII.
The world must stand together to protect the free global trading system where nations are free to negotiate bilaterally or multilaterally in trade agreements, on an equal basis, to benefit all parties. The current trading system is as fair as one could get without the use of force and threats. Multilateral trade agreements have proven to be beneficial to its members, big and small. To change this arrangement and to revert to bilateral trading systems and isolationism is a regressive step backward that countries of the world would stand to lose and may lead to greater interstate tension and even trade wars.
The world has progressed and has developed many avenues for greater cooperation and integration as members of an interconnected and interdependent community for the benefits of all nations. Member countries attending the Boao Forum are testaments to the achievements and faith of a more interconnected free trade. While Americans are heading towards isolationism and giving up its leadership of the free global trading system, Asian countries should step up to continue the trend for free trade and globalization, to assume leadership for more freedom for nations to trade as independent and equal members of this brave and free new world. Nations must seek partnership and alliances for trade and peaceful cooperation, not military alliances for wars, for protectionism, to threaten other countries with military powers.
There is a need for a new leadership to advance free trade and globalization, with or without the US, over countries that are seeking the isolationist path. Asia should take the lead in this new direction for the good of countries of the world.
At the Boao forum President Xi Jinping said that the theme-Globalization and Free Trade: The Asian Perspectives-reflected the keen attention on the issue from the international community, especially in Asia. He went on to applaud "the role of the forum in building an Asian consensus, promoting Asian cooperation and upgrading Asian influence since its establishment 16 years ago." Asia's role in contributing to a constructive dialogue and initiative in globalization and free trade would only grow as more Asian countries join the journey for higher economic growth and development.
In the same forum, Nepal's Prime Minister Pushpa Kamal Dahal said, "Asia is an ideal region to lead the next phase of globalization, and future efforts should focus on increasing inclusiveness to avoid dividing people into winners and losers." Asia would have no choice but to take the lead for a new paradigm in free trade and globalization in the face of new challenges as it enters the 21st Century with new dynamics amidst rising tensions and threats to the established free trade global system. There is no other option but to soldier on under a system that is free, fair and equal and proven to be functional.
The author is a political observer from Singapore.