Job creation as a policy priority needs to face new challenges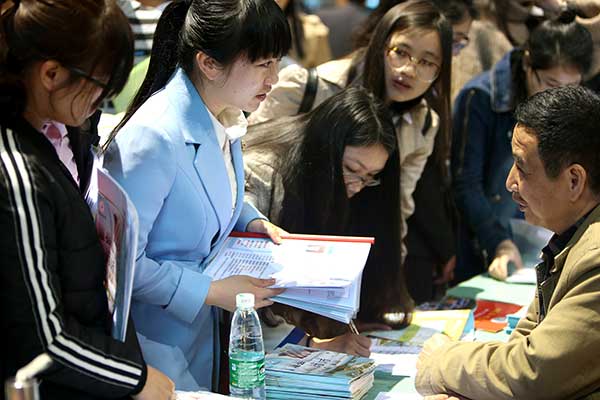 Graduates from normal universities in Hunan province interact with their potential employers at a job fair in Hengyang in March. More than 4,000 graduates participated in the event.[Peng Bin/For China Daily]
Editor's note: This is a re-write of opinion article by Cai Fang, which is originally published on People's Daily.
As the economy has entered into a phase of re-balancing from emerging to more sustainable and inclusive growth, which is called the new normal, the Chinese labor market might also be faced with new challenges.
A vital aspect of Chinese economy's new normal is that growth rate is not the only indicator that matters, expanding employment hence improve people's well-being should be given priority among all the tasks.
Total population of the working age has shown negative growth since 2011, which means supply and demand tends to be more balanced. This naturally leads to less competition within the labor market in general, while focus needs to be on solving structural umemployment( hard to find a new job for a long term after laid-off because reform of )and frictional unemployment(usually in short term).
Frictional unemployment is an academic definition meaning when workers leave their jobs to find better ones. It's usually a voluntary exit, but can also occur from a layoff or termination with cause. The time, effort and expenses it takes the worker to find a new job is called friction.
While this friction problem might be a more common difficulty among both authorities and employees, with the deepening of reform and adjustment of economic structure processing comprehensively, attention is needed relating to three aspects of employment contradiction:
First, with the structural reform continuing, dealing with over-capacity industries and shutting down zombie companies naturally leads to problems of structural and frictional unemployment for employees in these areas. For example, some workers might be not be able to meet new requirements when transferring to new positions, let alone in some rural areas, when poorer farmers may struggle with the lack of necessary work skills or qualifications.
Second, for some parts of the population, the improvement of employment quality is critically in demand. This population refers to flexible employees, especially migrant workers, which accounts for 36 percent of total urban employment, but only 40 percent of them have signed labor contracts. They can't fully enjoy public services and their participation in social security programs have a low rate. Many of them have strong motivation to come back to rural areas as soon as they are over 40 years old. This is a dangerous sign of urbanization's reverse, which would further worsen the labor shortage.
Third, new patterns of employment such as informal employment are increasing, which would challenge the traditional labor rights protection system that usually secures these rights based on the work unit. How to broaden the benefit coverage for informal employees is an issue that bothers many countries around the world.
Measures to tackle the challenges can also be focused into three areas:
First, policies should be better formulated to achieve a delicate balance between labor market flexibility and the labor security system. Workers need to be encouraged to learn more professional skills, and at the same time enterprises should allocate social resources in the most efficient way, which combined can improve social productivity. For example, reform of the household registration system should be moved forward, reasonable measures could be taken to guide the farm population flow into cities, which would definitely increase labor supply. Institutional improvements like the Labor Law amendment are also needed, to better protect employees' rights.
Second, measures in the long run should be focusing on human resource education and cultivation. As many teenagers usually tend to give up studying and enter the labor market at very young age, they are destined to struggle coping with employment fluctuation in the future. So a comprehensive educational and training system covering the entire society and all age ranges is vitally in demand, especially to improve workers' innovation and employment skills.
Third, on one hand, the structural reform needs to keep pushing forward, while on the other hand, social policies need to be used as a guarantee for residents' basic standard of living. So the public employment service system should be improved, in order to reduce the time it costs the unemployed to find another job. And at the same time, try to break inequality of the current social security public services system, which are divided by rural and urban areas, industries, identity and sexuality. In one word, all the residents could benefit from the reform's achievement.
Confidence from the public for the authority to tackle the employment issue should be strengthened; solid progress has been gradually obtained in recent years. In 2016, 100 billion yuan of special funds to compensate employees in cutting over-capacity industries were allocated from the government, and policies aimed at making the entrepreneurship environment more lively have also seen fruitful achievements.
Wu Zheyu's re-write from Cai Fang's opinion article published on People's Daily.