Rallying efforts to fight against protectionism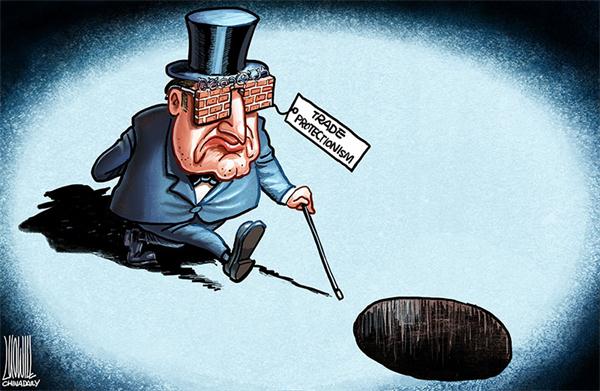 Luo Jie
At the insistence of the United States, finance ministers and central bank governors from the world's biggest economies ended a G20 meeting in Germany on Saturday without agreeing on resisting protectionism and supporting free trade.
The usual sentence-"We will resist all forms of protectionism"-was omitted from their communiqué.
This marks a step backward and underscores the anti-globalization stance of the Donald Trump administration, which bodes ill for the countries that rely on open markets to maintain growth against the backdrop of the global economy's slow recovery. However, it will not reverse the trend of globalization as the trade in goods already accounts for almost half of the global GDP.
China, which joined the World Trade Organization in 2001, is the biggest victim of trade protectionism, with 119 trade remedy probes totaling $14.3 billion launched against it by 27 countries and regions last year, a jump in value of 76 percent year-on-year, according to China's Ministry of Commerce.
Now it faces even more protectionist policies given the "buy American" rhetoric of Trump and his threat to levy new tariffs on goods from China.
This makes China, the world's largest exporter, a natural opponent of protectionism and defender of free trade. President Xi Jinping described protectionism as "locking oneself in a dark room to avoid danger" in his speech at the World Economic Forum in Davos, Switzerland, in January. His assertion that "no one will emerge as a winner in a trade war" is a view shared by the leaders of many countries.
Xi also said that efforts should be made to develop an inclusive economy, in which opportunities and benefits are shared by all to create win-win globalization.
China is working with other nations to fight protectionism. Xi once again expressed China's commitment to free trade ahead of the G20 meeting when speaking by telephone with German Chancellor Angela Merkel, and they vowed to fight for free trade and open markets together.
There is still room for optimism, as US Treasury Secretary Steven Mnuchin said at the G20 meeting that Washington had no desire to fight "trade wars" with other countries, which will lead to a lose-lose situation for all.
And as a country that has benefited from globalization as it has opened ever wider to the outside world, China will not shut its doors now.