Communication can steady rocky China-US relations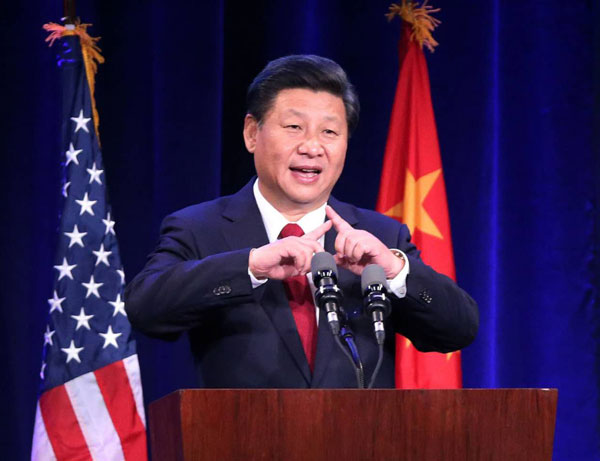 Chinese President Xi Jinping delivers a speech during a welcome banquet jointly hosted by Washington State government and friendly communities in Seattle, the United States, Sept. 22, 2015.[Photo/Xinhua]
The Thucydides trap is the ever-present elephant in the room when it comes to relations between China and the United States. Whether the established power and the rising power can successfully avoid conflict as the established order necessarily adjusts to accommodate China's rise is a question of concern to all.
That question has become even more prominent with the change of administration in the US, especially when Donald Trump seemed set on destroying the foundations of bilateral ties before he even entered the White House.
Although he assured President Xi Jinping that that was not his intention in what seemed a long-delayed phone call, it is hard to escape the impression the relationship is still being tested by the frictions of growing uncertainties in sensitive issues ranging from the deployment of the US' anti-missile defense system in the Republic of Korea, to Washington's penchant for sending warships on patrols in the South China Sea and its continuous efforts to enhance its military alliances in the Asia-Pacific.
Despite all these potentially worrying portents, Foreign Minister Wang Yi drew a more positive picture for the trajectory of ties when he spoke to the media on the sidelines of the ongoing session of the National People's Congress in Beijing on Wednesday, saying ties between the two countries are developing in a positive direction thanks to intensive communication and the efforts of both sides.
In fact, Beijing has always maintained faith that healthy and stable relations can be developed with Washington.
Admittedly, the complexities in geopolitical politics and their different, though not necessarily opposing, stances on sensitive global and regional issues have often strained ties.
But that should not prevent the two major countries from exploring ways to realize Xi's proposal of a new type of relationship between major powers. Wang offered two suggestions in this regard: The two countries should transcend their differences in social systems and avoid any inclination to view bilateral ties as a zero-sum game.
For a long time, these two mindsets have helped sow the seeds of distrust between the two countries and prompted the US to view China as a challenger to its global leadership. But instead of overturning the existing order, China wants to help improve global governance. As Wang said, Beijing disagrees with the notion that countries be differentiated as leader and those being led. Instead, it envisions countries jointly building a community with a shared future for all humankind.
The upcoming visit to Beijing of US Secretary of State Rex Tillerson, whom Wang described as willing to listen and good at in-depth communication, offers the opportunity for consultations to bridge the differences between the two countries and expand their common interests. Wang's belief that the two "can establish a sound working relationship" gives grounds for some optimism.