China, US top complaints list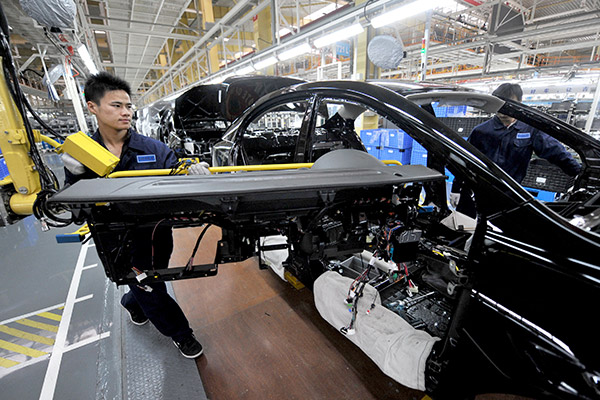 A technician installs interior trim on a production line at Geely Auto in Hangzhou, Zhejiang province. [Photo/Xinhua]
Users shared grievances online about carmakers' shortcomings in 2016
Chinese and United States marques have to offer better cars if they want to sell more in China after their models received the most complaints in the country last year.
The car review website Chezhi received 19,234 complaints about 158 compact sedans in 2016 for 17.4 percent growth year-on-year.
Of them, 6,455 were filed against cars from Chinese brands while 4,803 were filed against models from US brands.
According to the brand rankings, China and the US were followed by French brands with 2,256 complaints, Japanese brands with 1,895 and German brands with 1,751.
Last year in China, compact sedans constituted around 65 percent of total sedan sales, so they are believed to best represent the quality of the segment as a whole.
The biggest problem with Chinese models is that they lack consistency, according to Chezhi, as more than 1,000 consumers complained that their models, which automakers claimed to be the same, were in fact different in their configurations.
Chezhi did not reveal the specific models but internet users posted pictures on the website's forum of different on-board navigation and entertainment systems in the same new 2016 Emgrand sedan from Geely Auto.
Other problems with Chinese models include noisy engines and problematic batteries, each attracting nearly 280 complaints.
Complaints about models from US brands were filed against the powertrain systems, including abnormal sounds from engines and transmissions, as well as cracked dashboards. Specifically, the Buick Excelle, Buick Verano, Chervolet Cruze and Ford Focus were among the 10 most complained-about models sold in China in 2016, according to Chezhi data. Engine and transmission problems accounted for 45 percent of all complaints received last year.
An analyst who wanted to be anonymous said automakers should be more active in correcting quality problems.
He said: "In the age of the internet, nothing can be concealed for long and a smart solution for automakers is to acknowledge and solve problems as soon as possible before their brands' reputations suffer."
Consumers' growing awareness of quality standards and increasingly easy ways to file complaints, via either Chezhi or official channels, are prompting carmakers to solve quality problems.
Yan Fengmin, an official at the General Administration of Quality Supervision, Inspection and Quarantine said the country's top quality watchdog received 16,157 complaints about car quality in 2016.
On average, one of every two complaints proved to be an indicator of faulty products.
Due to investigations the watchdog initiated, GM recalled 2.16 million cars in China last year due to possible engine problems, the biggest recall ever undertaken by an automaker in the country.
Statistics show that automakers issued recalls for more than 11 million faulty cars in the country last year, with more than 75 percent of them prompted by the watchdog based on its monitoring of overseas recalls and customer complaints.