China slams the brakes on new energy vehicle cheats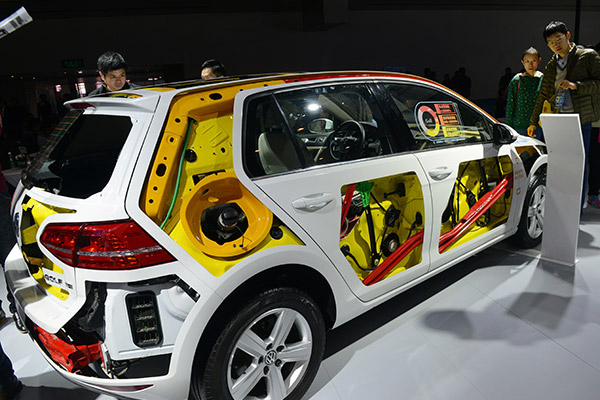 Visitors examine a new energy vehicle at an auto show in Zhengzhou. China started offering subsidies in 2009 to stimulate the production and sales of new energy vehicles, a classification which covers electric cars, plug-in hybrids and fuel-cell cars. [Photo/China Daily]
Country's industry warned over the potential problem posed by 'intelligent future'
China's Ministry of Industry and Information Technology has come down hard on seven new energy vehicle makers over subsidy cheating, sending a clear message to the sector that such behavior will not be tolerated.
The seven automakers are Jinhua Youngman Automobile, SAIC Bus, Chongqing Lifan Automobile, Zhengzhou Nissan Auto, Shanghai Sunwin Bus, Nanjing Special Auto Manufacturing Co and Chongqing Hengtong Bus Co.
The ministry said on Feb 4 that the seven carmakers attempted to falsely claim government subsidies with electric cars that were either unfinished or installed with battery cells that failed to meet their claimed specifications.
Under the penalties imposed by the ministry, the seven automakers will be barred from an official catalogue of recommended vehicles types that qualify for subsidies. They will have two months to rectify all existing problems, at which time the authorities will reassess their eligibility.
A further four automakers were punished because of similar problems in December, and all the practices of all 11 were uncovered in an official investigation which began in early 2016.
Miao Wei, minister of industry and information technology, said at a new energy car forum in January that all automakers found guilty of cheating would be punished.
China started offering subsidies in 2009 to stimulate the production and sales of new energy vehicles, a classification which covers electric cars, plug-in hybrids and fuel-cell cars. A total of 33.4 billion yuan ($4.81 billion) had been earmarked by the end of 2015.
The authorities have cut subsidies to new energy vehicles by 20 percent this year from 2016 levels.
They have also raised the threshold for automakers to receive subsidies and stated that subsidies from local governments should not exceed 50 percent of those from the central government.
The subsidies are set to be phased out by the end of 2020.
A total of 517,000 new energy vehicles were sold in China in 2016, a rise of 53 percent year-on-year. The country has been the largest global market for such vehicles since 2015.
"A similar growth rate is expected in 2017", said Cui Dongshu, secretary-general of the China Passenger Car Association, "with the subsidies being the most important driving force."
Despite the rapid sales growth over the past years, Wang Binggang, an expert working on the new energy vehicles project at the Ministry of Science and Technology, said there is still a long way to go before the sector can stand on its own feet.
Chen Qingtai, director of China EV100, a non-profit organization dedicated to new energy vehicles, expressed similar sentiments.
He said that Chinese carmakers must strive to make technological breakthroughs if they wish to remain competitive, and warned that competition from the growing number of international brands in the Chinese market will be a key test for them.
Volkswagen AG said it plans to introduce around 10 electric cars based on its electric-only Modular Electric Model lineup to the Chinese market over the next decade. The German auto giant has also signed a memorandum of understanding with China's JAC Motors to produce electric cars.
Mercedes-Benz, which showcased its electric concept car EQ in November, said the proportion of new energy vehicles in its global product lineup will stand somewhere between 15 and 25 percent by 2025.
The MIIT released a 15-year blueprint in October on the development of new energy cars in China.
According to the blueprint, such cars will account for 7 percent of total car sales in 2020 and 40 percent in 2030. The figure was 1.8 percent in 2016.
The blueprint has set a target for electric cars to run 300 kilometers on a single charge by the end of the decade and 500 km by 2030.