Passengers must act civilly on subways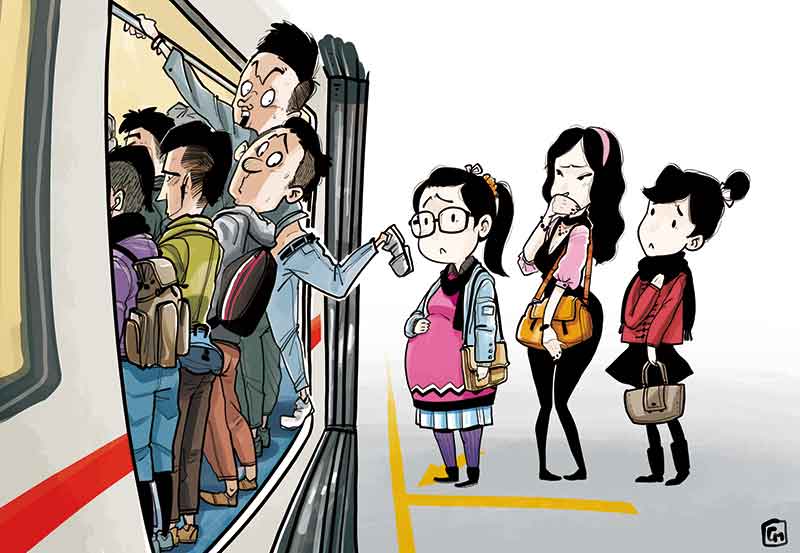 Crowded subway. Cartoon by Cai Meng
A 17-YEAR-OLD MALE passenger on a subway train verbally abused two young women trying to persuade him to scan a Quick Response code. The police later caught the youth involved. Beijing Youth Daily commented on Monday:
The behavior of the male passenger was unruly and disrupted public order. the police have warned people to behave civilly and obey the rules when travelling on the subway.
But what were the two girls doing? Some said they were trying to promote a startup; others suggested it was part of a scam.
People doing such QR promotions are common on subway trains in Beijing and other cities, as they can earn 3.5 yuan ($0.55) per scan and some of those working on the capital's subways say they can earn up to 20,000 yuan a month.
However, subways are a means of public transport and the regulations prohibit people from begging or conducting commercial activities on the trains or in the stations. Some of the QR scanning on the trains also constitutes harassment of passengers and may be part of criminal activities. Experts warn that QR codes are one of the ways personal information is illicitly obtained.
While the young man was in the wrong, the authorities should clamp down on those doing such QR code promotions on the subway. Those using the subway cannot be allowed to do whatever they want, they must obey the rules.