Rebalancing towards a more consumption-driven growth path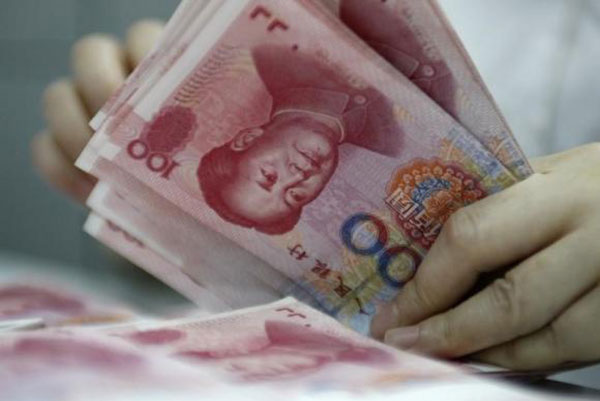 An employee counts yuan banknotes at a bank in Huaibei, Anhui province, June 22, 2010. [Photo/Agencies] 
China has so far successfully managed a gradual slowdown. The next question is how to achieve sustainable growth in the long run. Looking at the demand side of growth, investment has long been a major driver. Even though the per capita capital stock in China is still lower than in more advanced economies, a gradual rebalancing from investment to consumption is needed to avoid further misallocation of capital and its negative consequences, such as overcapacity in several industries and real estate. While this rebalancing started a couple of years ago, the most recent Government Work Report and the 2017 Draft Plan for National Economic and Social Development reiterate the emphasis on boosting consumption.
Consumption tends to be a more stable driver of growth than investment, less prone to boom-and-bust cycles than investment. In recent years, consumption has become the major driver of growth, overtaking investment. Nevertheless, when looking at the contribution of consumption to growth, which more reflects the role of consumption per se in driving growth, one discovers that it has been relatively stable across the past couple of decades. That is, the increasing role for consumption stems mainly from a decreasing role for investment.
The question therefore, is, how to realise the consumption potential? An important prerequisite is high employment rates and rapidly growing incomes. While the unemployment rate (available only for urban areas) has long been very low in China, there is less information about under-employment, particularly in rural areas, where, by definition, all people are employed. Income growth has been strong in past years, though last year it was relatively weaker, especially in the case of urban incomes. The good news, however, is that rural incomes have continuously been growing faster than urban ones, thereby reducing the urban-rural divide.
Although re-balancing is under way, its pace is relatively slow. This, to a large extent, is attributable to very high household savings. The saving rate has only marginally declined since its peak in 2010. This may relate to still very strong motives to save money related to less-than-full social security coverage and the varying quality of public goods and services provided across the country. These force people to save for their old age, in case of illness or for their children's education, which results in lower consumption. Recent government plans including the 13th Five Year Plan on Equalisation of Basic Public Services as well as measures to increase social security coverage will likely reduce motives to save.
Urbanisation can also become a key driver of consumption growth. For the 13thFive Year Plan period, the government envisages 100 million rural residents moving to cities, extending the provision of public services to another 100 million migrant workers, who already live in cities but are excluded from the public services that urban hukou holders benefit from, as well as, improving the living conditions of another 100 million urbanites living in shanty towns. Recent OECD research focusing on the first two groups shows that rural households migrating to cities for work and granting urban hukous to migrants who already reside in cities will likely result in increased consumption and, thus, contribute to rebalancing the economy. Furthermore, increased income and more time at school, which are part of the urbanisation package, will contribute to rebalancing. However, a higher number of children in the family encourages saving instead of consumption. Urban lifestyles change consumption patterns, not only because urbanites have higher spending capacity, but also enjoy greater social security benefits and access to higher quality public services.
The author is Head of China Desk, Economics Department of OECD (Organisation for Economic Cooperation and Development).