Annual report boosts China and the world economy confidence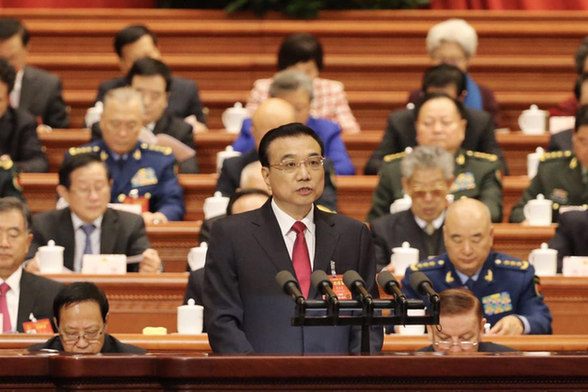 Premier Li Keqiang delivers the Government Work Report during the opening meeting of the fifth session of the 12th National People's Congress at the Great Hall of the People in Beijing, March 5, 2017. [Photo by Xu Jingxing/China Daily] 
On the morning of March 5, 2017, China's Prime Minister Li Keqiang delivered the government's annual working report to the National People's Congress in Beijing. The report summarizes China's achievements in the past year and sets new social-economic development targets for the coming year.
Despite the adverse external environment in the aftermath of the world financial crisis and some severe internal structural issues, China's gross domestic product (GDP) expanded by 6.7 percent in real terms to 74.4 trillion yuan ($10.79 trillion), accounting for 15 percent of the world GDP and 30 percent of its net growth.
Personal disposable income rose 6.3 percent, supported by 13.14 million newly created jobs throughout the country. China's unemployment rate was reduced to 4.02 percent, the lowest level in recent history. The pollution intensity of GDP per unit was reduced by 5 percent, demonstrating China's ability to build a sustainable economic development model in the long term.
The consumer price index (CPI) rose by only 2 percent. Industrial profitability changed from minus 2.3 percent in the first half of the year to a positive level of 8.5 percent in the second half, indicating a remarkable improvement in industrial efficiency and boosting the confidence of the Chinese as well as the world economy, despite a volatile global economic environment.
Given what China achieved in 2016 and the potential challenges in the coming year, Li also proposes the following economic and social development targets for 2017. The GDP growth rate will be around 6.5 percent, which is 0.2 percentage points lower than the actual level in 2016. He sets this seemingly cautious target because it will be relatively easy to achieve. A slightly lower growth target will also provide some flexibility for China's ongoing structural adjustment program, which aims to reduce the production of steel by 50 million tons and the production of coal by 190 million tons. The proposed reduction in steel and coal production is important for China to cut its carbon emissions and to upgrade the country's industrial technologies.
The CPI growth is set at 3 percent, or 1 percentage point higher than the actual level in 2016. The number of newly employed will be 11 million, which is one million less than the target set in the previous year, but 2.14 million less than the previous actual level of achievement.