Risks of QR codes are controllable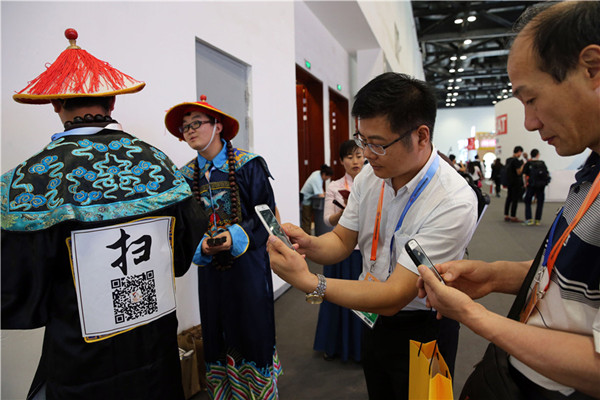 A company gives gifts to attendants who have scanned the firm's QR code.[Photo by Wang Zhuangfei/China Daily]
A DIGITAL VERSION of the 2017 Government Work Report, which was delivered by Premier Li Keqiang to the fifth plenary session of the 12th National People's Congress, the nation's top legislature, on Sunday, could be accessed for the first time by scanning a QR code on the report's first page. Beijing News commented on Monday:
Cheap, convenient, and controllable in terms of security, the use of Quick Response codes has become prevalent, and they are now an increasingly popular way of making payments for both Chinese retailers and customers. This has prompted the country to seek advancements in mobile payments, e-commerce, and also social governance.
The mobile-friendly version of this year's Government Work Report, which was read by deputies attending the fifth plenary session of the 12th NPC, is a case in point.
China's pursuit of a cash-free society is not without problems. The central bank temporarily banned QR payments following media exposure of its security risks in 2014. Two years later the Payment and Clearing Association of China, the nation's regulatory body for the industry, issued a rule allowing its members to promote mobile payments on the premise that the risks are basically under control.
Technologies such as digital signatures and encryption guarantee that the generation and the use of QR codes are increasingly secure and fewer users are exposed to financial losses and information leaks.
Hence it is time for the authorities to scale down their intervention and allow market players to take over on the basis of public opinions.