Urgent need to cut flow of funds from real economy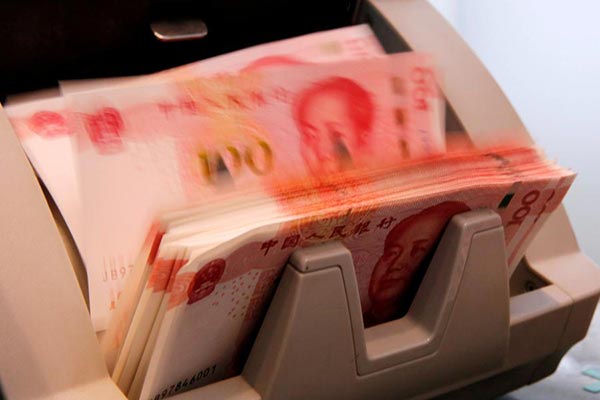 Chinese 100 yuan banknotes are seen in a counting machine while a clerk counts them at a branch of a commercial bank in Beijing, March 30, 2016. [Photo/Agencies]
HOW TO FURTHER BOOST THE REAL ECONOMY? Fu Chengyu and Li Daokui, two members of the 12th National Committee of the Chinese People's Political Consultative Conference, the nation's top political advisory body, said at its ongoing fifth plenary session that the country must end the speculation of the financial sector so that funds go back to the real economy. Beijing Youth Daily comments:
The outflow of funds from the real economy to the financial sector poses a serious challenge to China's manufacturing industry. Besides, a majority of the funds flow into the virtual, or the financial sector. The concentration of funds in the financial sector might in turn lead to speculation, which increases the risks to the whole economy. Worse, some capital flows into the real estate sector, which inflates the real estate bubble that in turn squeezes more money out of the manufacturing sector.
In order to further boost the real economy, it is urgent to cut the outflows of funds and properly "guide" them back to the manufacturing industry and other parts of the real economy.
There are several measures available. The first is to strictly regulate the financial market, so that there is less room for speculation. The primary lure for capital is high profits, and if the financial market is put under strict regulation that lure will lessen.
Besides, the financial burdens of manufacturing enterprises need to be lowered to attract funds back. Currently the manufacturing enterprises face quite high fees and high costs of borrowing from the banks. If the costs could be lowered, the profits of the manufacturing sector would be higher, thus attracting more investors.
More important, entrepreneurs would be encouraged to unleash their creativity. With the internet economy prospering, they could think about more ways of combining manufacturing with the internet as that's the future of the manufacturing industry.