Investment plan will not affect economic restructuring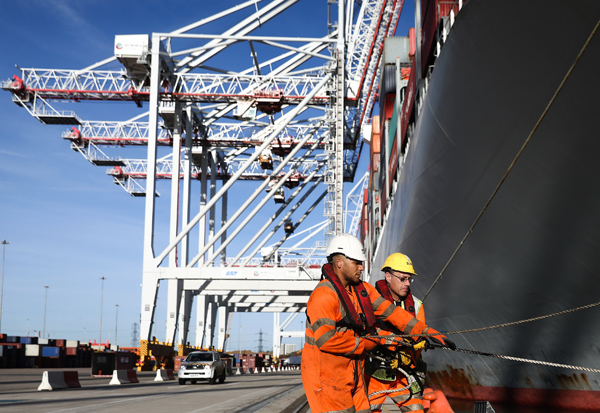 Dockers untie a mooring from a container ship docking at the Port of Southampton in the United Kingdom. [Photo / Agencies]
Twenty-three provinces, municipalities and autonomous regions of China have released their fixed-asset investment plans for 2017, and their total value-more than 40 trillion yuan ($5.8 trillion)-has prompted commentators to criticize the country for continuing to rely on investment to expand its economy. Critics have also compared the 40 trillion yuan investment with the 4 trillion yuan stimulus package against the backdrop of the global financial crisis, arguing that such large-scale investment plans could push China into an abyss of high inflation and rising asset prices.
Indeed, an investment of 40 trillion yuan is colossal. But is this colossal investment plan a sign of China's failure to honor its promise of transforming the economic growth model from export- and investment-driven to one driven by consumption and innovation?
The answer is "no".
The two figures-the 40 trillion yuan investment plans of provincial and regional governments and the 4 trillion yuan national stimulus package in 2008-are technically not comparable.
China is the world's second-largest economy. Its GDP is nearly $11 trillion, and its fixed-asset investment in 2016 reached 60 trillion yuan. Statistics show that of the overall fixed-asset investment, about 90 percent is categorized as local government fixed-asset investment. In other words, local governments made fixed-asset investments of more than 50 trillion yuan last year.
China registered a fixed-asset investment growth of 8.1 percent last year. Since the country may face heavier growth pressure this year, its fixed-asset investment could increase to about 70 trillion yuan to help anchor the overall economy. As a result, the local governments' fixed-asset investment projects could be worth about 60 trillion yuan, much larger than the amount estimated by the media.
Such a large figure, however, does not necessarily signal a shift in China's growth strategy. The latest Ministry of Commerce data show that in 2016, consumption contributed to 64.6 percent of GDP, up by 4.9 percentage points year-on-year. On Tuesday, the ministry said China's consumption will continue to grow strongly this year.
Obviously China is sticking to its pre-set policy of encouraging consumption-now the largest contributor to growth-and reducing its reliance on exports and investment to restructure the economy.
China's annual fixed-asset investment growth slumped from about 30 percent in 2009 to 20 percent in 2012, and falling below 10 percent last year. Seen from the perspective of fixed-assets to GDP ratio, China's reliance on investment started to fall last year, although the absolute volume remained on the uptick: in 2016, the ratio was 80.2 percent, down from 81.6 percent in 2015.
Besides, China's exports in 2016 dropped 2 percent year-on-year, compared with a steep fall of 7 percent in 2015. If the exports sector continues to recover and consumption continues to increase strongly, as the Ministry of Commerce predicted on Tuesday, China's fixed-assets investment to GDP ratio may decline further this year.
Given the large scale and fast growth of the Chinese economy, the annual increase in its GDP is very impressive and, therefore, if we compare the size of its economy today with what it was eight years ago, the gap will seem huge, but that is not surprising.
In 2008, China's total GDP was 30.1 trillion yuan, compared with 74.4 trillion yuan last year; and its fixed-asset investment was 17.2 trillion yuan, far less than its 2016 volume of nearly 60 trillion yuan.
The 4 trillion yuan stimulus package, on the other hand, was launched as a contingency measure to combat abrupt and steep economic downturn due to the global financial crisis. It was not part of the regular annual investment plan and, in reality, much smaller in scale compared with the total fixed-asset investment volume that year. Therefore, there is no sense in comparing it with today's local government fixed-asset investment volume in an attempt to conclude that China still relies heavily on investment for growth.
The author is a senior writer with China Daily
xinzhiming@chinadaily.com.cn