Many unaware of wildlife protection law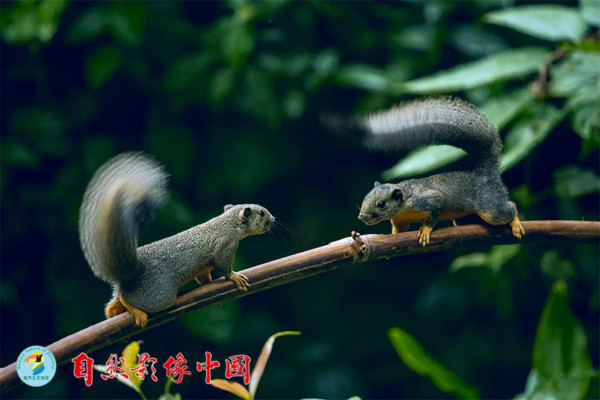 Phayre's squirrel (Callosciurus phayrei) is a species of rodent in the family Sciuridae. It is usually found in China and Myanmar. Two Phayre's squirrels face unavoidable confrontation. [Photo provided to chinadaily.com.cn]
Reports that a local farmer in Chun'an county in Hangzhou, East China's Zhejiang province, has been detained and is likely to face a prison sentence for catching 114 toads has caused a stir. Beijing News commented on Tuesday:
It might not be convincing for some people that catching more than 100 toads could lead to a criminal detention and even prison term. However, it must be clarified that Chen was detained because he had violated the law.
Although that particular kind of toad is not included in the national list of protected species, it is on the list of important species that are beneficial, important economically, and worthy of scientific research. These so-called three-value species number about 1,700 and include sparrows, frogs, toads and snakes.
China's Criminal Law and related regulations make it clear that capturing more than 20 of any of these species without authorization is a crime, and capturing more than 50 constitutes a major criminal case. The farmer's illegal capturing of 114 toads therefore is a major crime.
However, it is noteworthy that the farmer didn't know that catching the toads broke the law.
It can be seen from the present case that the whole of society does not yet have the necessary awareness of the need to protect wild animals, especially the awareness of the Wildlife Conservation Law, which is the key to the problem.
Therefore, Chen's detention for catching toads was actually a lesson in the law for the public.
Relevant departments should take this as an opportunity to vigorously strengthen awareness of the law, so that people understand the importance of biodiversity and protecting wildlife.