Car-sharing services face moment of truth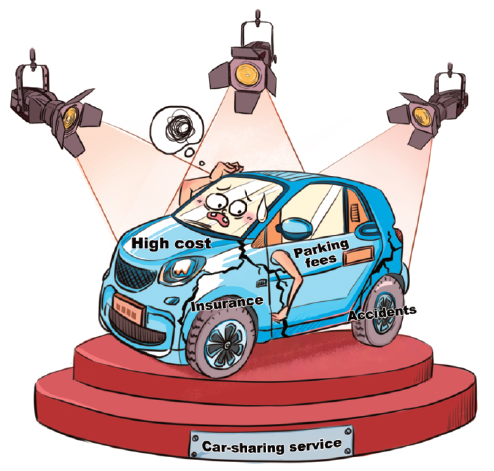 SHI YU/CHINA DAILY
Car-sharing services provided by companies such as Gofun Chuxing launched by Beijing Shouqi Group and Car2go under the automobile giant Daimler AG are striving for a place in China's burgeoning sharing economy. But they will encounter disappointment unless they avoid or remove the costly speed bumps ahead.
The sharing cars, mostly powered by electricity and in good condition, can be ready for first-time users in minutes once they finish the required registration via the service apps. In some cases they cost even less than taking a cab. For example, Gofun has 1,100 cars in Beijing, with more joining its fleet once its application for license plates is approved, and offers services for a refundable deposit of 699 yuan ($102), after which a passenger has to pay only 1 yuan per kilometer and 0.1 yuan per minute for a ride.
Traditional car-rental services, on the other hand, charge on a daily basis-which means short-distance commuters are not likely to apply for them-and they are often more expensive.
Car-sharing services, in comparison, can be rather flexible in offering tailored driving choices and are more environmentally friendly. Ostensibly these pay-as-you-go vehicles have more potential to attract enough customers and investors to make the companies profitable.
But the services they offer are essentially B2C (business-to-consumer) and have little to do with "sharing": All cars are owned, dispatched and maintained by the service platforms. And like their bike-sharing counterparts such as Mobike, the car-sharing apps are struggling to keep illegal parking in check and bring unruly users to book. In fact, they could pose a bigger challenge to urban management because cars need more space than bicycles, and traffic accidents involving vehicles are more severe.
The bike-sharing platforms are able to get by despite these problems because their daily maintenance is less costly and risky. Car-sharing service providers, however, do not have such a "luxury".
Requiring users to provide valid driver's licenses and informing them of the need to buy insurance are theoretically viable ways of reducing accidental damage, but in the absence of relevant laws it is not easy to ensure all parties fulfill their due responsibilities.
Facing a similar dilemma is the credit-deduction policy, which is designed to punish dishonest car users. According to several car-sharing service apps, customers are told in advance that they are responsible for any damage caused to a vehicle due to their own misconduct and that they have to pay for it. But the traffic authorities will still find it difficult to measure such punishments
Punishment such as penalty points or clearing their app credits to deny them access to the services should be able to strike a balance between traffic rules and the platform's suggestions. But that is a supervisory gray area as far as rules are concerned, not least because it involves the risk of compromising users' personal information.
Insufficient parking space in urban areas is indeed a problem, the dearth of chargers for electric vehicles another. Such problems, however, can be solved with governmental and technological support. What ultimately could be the Achilles' heel of car-sharing services is their possible failure to make impressive profits and the extra burden they create on traffic.
The most efficient car-sharing programs are still those of car-hailing companies such as Didi Chuxing and Uber. Didi's shunfengche, or "hitchhiking" project, which included about 2.8 million car owners and completed some 4.2 million trips during the Spring Festival travel rush, is a case in point. Which means car-sharing services could end up as a costly publicity stunt if they do not improve their travel efficiency.
Zhu Wei is deputy director of the Communication Law Center at China University of Political Science and Law. The article is an excerpt from his interview with China Daily's Cui Shoufeng.