Think tanks as supplement to policymaking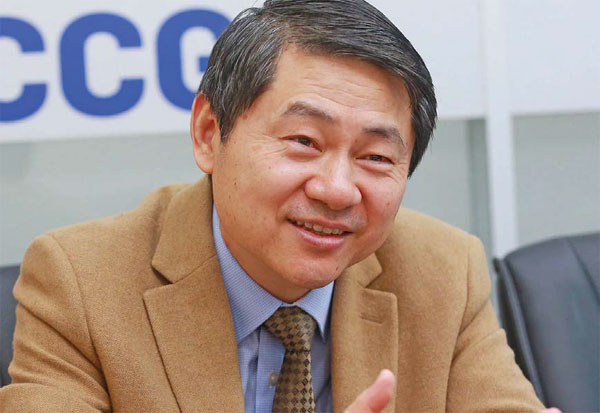 Wang Huiyao, president of the Center for China and Globalization, China's largest independent think tank, sees the likely collapse of TPP due to US non-participation as an opportunity to reshape Asia-Pacific trade.[Photo by Zou Hong / China Daily]
Chinese think tanks, be they State-sponsored or private, are inching forward in the global intellectual race. Nine of these made it to the world's top 175 think-tank list prepared recently by the Lauder Institute of University of Pennsylvania. The university report says the United States has the largest number of think tanks (1,835) and China the second largest (435).
The ranking gives an idea of the effectual buildup of Chinese think tanks and how they supplement policymaking. Thanks partly to the concerted endorsement of the central and local governments, China's policies can be rather effectively implemented at all levels with the needed political motivation. China's expanding high-speed railway network, which has greatly changed how Chinese people travel, could well serve as an example of administrative efficiency.
However, without proper consultation with those in the know and the active participation of think tanks, a well-intentioned policy could become ineffective at the expense of public funds.
So, decision-makers should learn from their past mistakes. Including more think tanks in the decision-making process can be a viable solution to make the most of intellectual resources, which are plentiful in both public universities and independent institutions. And if their voices are heard, they could play an important part in improving the country's policymaking.
As China strives to play a bigger role in setting the global agenda, it is important that its major proposals, such as the Belt and Road Initiative (the Silk Road Economic Belt and 21st Century Maritime Silk Road), are translated into universal language. There is no turning back on globalization for China, one of the biggest beneficiaries of global trade, despite the fact that Western economies including the United States and the United Kingdom are inclined to a strategic retreat from global governance: The US has elected a president who during his campaigning threatened trade partners with punitive tariffs, and the UK is working on a "hard" exit from the European Union.
That President Xi Jinping's vocal endorsement of globalization at the World Economic Forum in Davos in January was widely applauded shows that Beijing's voice does matter when it comes to free trade. Chinese think tanks have done a lot to translate, interpret and promote the country's proposals. They should intensify their efforts now as China "goes global", for which they have to expand their talent pools by taking on board more political, academic and business professionals.
Perhaps it is time to introduce the "revolving door" approach to enhance the interaction between think tanks and retired ministers, ambassadors, and directors who held high posts in different government departments.
Diversified funding channels too are needed. In the US many think tanks were set up with leading entrepreneurs' donations-the Brookings Institution and Carnegie Endowment for International Peace being just two examples. Chinese entrepreneurs are yet to develop such a taste, as they spend most of their donations building schools or houses. Should they be informed of the importance of investing in research institutions, there will be more to expect from what Chinese think tanks have to offer.
The author is head of Center for China and Globalization.