Family planning officials are not beyond the law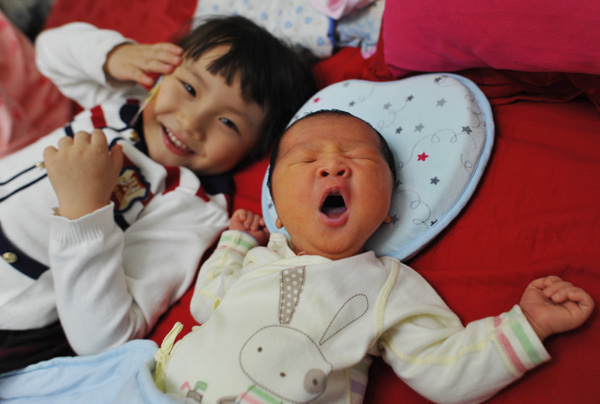 A girl plays with her newborn brother at a hospital in Nanjing, Jiangsu province,on Oct 24. 2014. [Photo/VCG]
A man who returned to his home in Zhenxiong county, Southwest China's Yunnan province, for a family reunion during Spring Festival was held by the local family planning staff and given a forced male ligation operation. Local officials justified the action by saying the man had broken the local family planning regulations by giving birth to three children with his ex-wife. Beijing Youth Daily comments:
There used to be a time when it was not uncommon for family planning officials to enforce the family planning regulation with such sterilization operations.
But the illegal practice has been gradually disappearing with the top leadership vowing to establish the rule of law. At several sessions of the National People's Congress, the nation's top legislature, delegates from all over the nation have clearly proposed forbidding family planning officials from forcing sterlization operations upon residents.
The local family planning officials in Zhenxiong, however, seem to be ignorant of the rule of law, and they have insisted on continuing the illegal practice.
In this case, the man had broken the family planning regulations, but he should be punished according to the law, instead of being given such an illegal penalty. The family planning department has no power to give anybody operations without their consent.
The family planning policy is a national policy, yet the power of family planning officials should be subject to the law. It is time to better educate the family planning officials nationwide so that they know this fact. Besides, the officials in Zhenxiong should be punished for their illegal deed, so that others won't commit similar deeds again.