Press ahead with SOE reform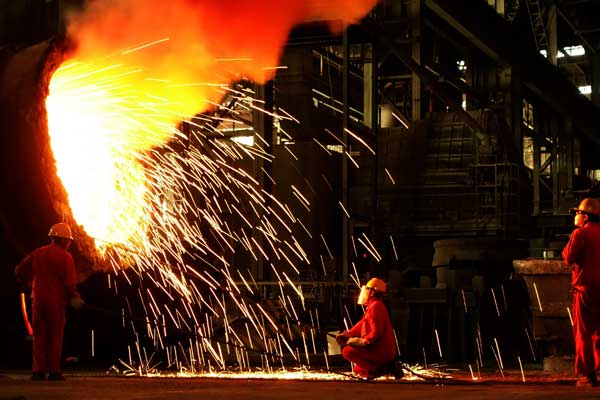 Workers clean a molten steel holder at Dalian Special Steel Co Ltd in Dalian, Liaoning province. [Photo by Liu Debin/For China Daily]
At a recent meeting on the reform of State-owned enterprises, Wang Yixin, vice-governor of North China's Shanxi province, criticized some provincial SOEs for bureaucracy and low efficiency, citing as an example a local coal SOE with nearly 2,000 positions at the level of division chief.
Such kind of overstaffing is not an isolated case. It is not news to the public that reform of the management system of SOEs has made slow progress, and their managers are more like government officials than professional managers of competitive companies.
Mid-level and high-level SOE managers not only enjoy the same treatment as government officials at the same level, they also earn a market-based income that is usually higher than their civil service counterparts. This is neither fair nor reasonable.
The career development path for SOE employees is still the same as the one for civil servants, which is based on administrative level promotions as an incentive. Such a development path devised mainly in the era of the planned economy has seriously restricted the cultivation of excellent talents in SOEs.
The Third Plenum of the 18th Communist Party of China Central Committee in 2013 urged the establishment of a professional management system for SOEs. The State-owned Assets Supervision and Administration Commission also listed the goal as a key task of SOE reform last year.
The key breakthrough in the building of a professional SOE management system lies in the de-administration of SOE personnel and the establishment of a market-based system for talent selection and promotions. The system based on administrative ranks should be abolished and a reasonable talent appraisal system established.
At the same time, there should be a two-way channel, so that SOE managers who cannot adapt to market competitiveness can be removed and replaced by those more suitable for handling the responsibilities.--Beijing news