DPRK move calls for peace talks, rather than talk of war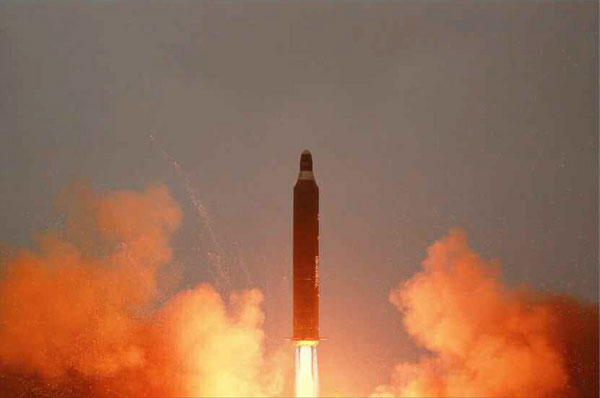 A surface-to-surface medium- and long-range ballistic missile Pukguksong-2 is test-fired by DPRK on Jan 12, 2017. [Photo/VCG]
The test-firing of a new ballistic missile by the Democratic People's Republic of Korea early on Sunday has once more escalated tensions on the already volatile Korean Peninsula.
The successful test was of a "new type of strategic weapon system", according to Korean Central News Agency, one powered by high thrust solid fuel rather than liquid fuel, which gives such missiles longer range and makes them harder to detect before launch by satellite surveillance.
It was the DPRK's first missile test since Donald Trump was inaugurated as US president, and it has been widely interpreted as also being a test to see what the new US administration's response will be.
While it is unrealistic to expect the new US leader to take a soft stance toward the DPRK and engage in direct talks on an official peace deal as Pyongyang seeks, Trump's initial tough talk on taking office has softened somewhat since, perhaps because he has come to better understand the complexity of the peninsula issue.
Despite countries in the region having a common sense of mission, underscored by the strengthened sanctions against the DPRK in the last UN resolution in November, the progress Pyongyang has made in its missile and nuclear programs can be partly attributed to its taking advantage of the discord among the major powers, including China and the United States, over how to deal with its nuclear weapons program.
Part of this discord has stemmed from the US' determination to apply pressure on Pyongyang using its allies Japan and the Republic of Korea, while ignoring the concerns of China and Russia.
It has been speculated that Trump may have discussed the situation on the Korean Peninsula during his phone call with Chinese President Xi Jinping, if so he would no doubt have been reminded of China's strong opposition to the US' deployment of its Terminal High Altitude Area Defense anti-missile system in the ROK, and China's consistent advocacy of talks as the right way to ease tensions on the peninsula and maintain stability.
The possession of nuclear weapons will by no means make the DPRK safer. Rather, it will turn the peninsula into a potential tinderbox where not only the DPRK, but the region and beyond will be the losers.
The DPRK's security and regional stability rests on a shared approach that takes into account the concerns of all the countries involved.
This necessitates peace talks, not talk of war or nuclear strikes.