Deployment of THAAD in ROK exacerbates tensions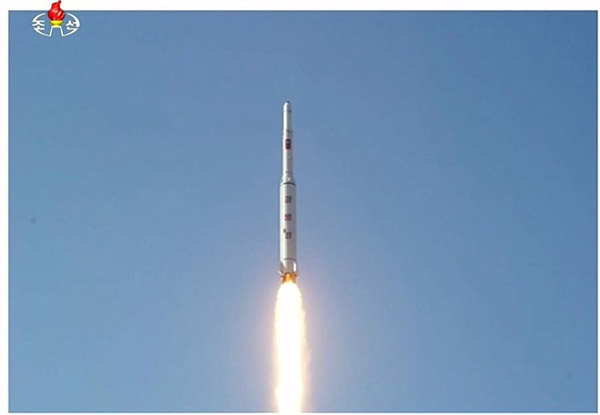 Democratic People's Republic of Korea launches a long range rocket launched into the air in this file still image taken from KRT video footage, released by Yonhap on February 7, 2016. [Photo/Agencies]
The Democratic People's Republic of Korea on Monday claimed it successfully test-fired a surface-to-surface medium- and long-range ballistic missile Pukguksong-2 on Sunday, according to the state news organization Korean Central News Agency.
The missile was launched at the same time as Japanese Prime Minister Shinzo Abe was paying a visit to the United States, and US President Donald Trump and Abe made a joint "commitment" to "address the DPRK menace".
Last year alone Pyongyang conducted two nuclear tests and ran a series of missile tests, and the nuclear threat from the DPRK has provided a good excuse for the US and its Asian allies to step up their military cooperation.
During his recent trip to Tokyo and Seoul, the new US Defense Secretary James Mattis reiterated his country's defense commitments to the US' two Asian allies, including the planned deployment of the Terminal High Altitude Area Defense anti-missle system in the Republic of Korea. According to reports, a US anti-missile battery could be deployed on the ROK soil as early as May.
The volatile Korean Peninsula situation prompted the ROK to accommodate THAAD, which serves Washington's Asia-Pacific strategy. And due to the deep-rooted pro-US political forces in the ROK, it will be very hard to reverse the plan to deploy the anti-missile system, even after the impeachment of Park.
Deploying THAAD on the Korean Peninsula has always been part of Washington's plan to expand and enhance its anti-missile network in the region. Aside from anti-missile cooperation with allies such as Japan and Australia, the US has also deployed the THAAD system in Hawaii and Guam, destroyers with missile interceptors in the Sea of Japan, and Patriot Advanced Capability-3 interceptors on the Japanese soil.
The military intelligence-sharing agreement sealed between the ROK and Japan last November is expected to further the information exchange between them and their common ally US, marking another step in the strengthening of the trilateral alliance.
However, inviting the ROK to join the game being played by the US and Japan does not only respond to the DPRK's nuclear threats but also places more countries including China under US military surveillance. Keeping Japan and the ROK committed to its Asian policy would be another boon to the US.
That explains why, after Donald Trump was sworn in as US president, Washington has continued to press ahead with the deployment of THAAD in the ROK.
However, the two allies are yet to offer any solid evidence to reassure Beijing that the anti-missile battery does not target any third party. Nor have they taken any action such as removing radars that might be used to spy on China to prove their point. China will not sit idle while Washington and Seoul press ahead with THAAD in the name of handling the "DPRK threat".
The author is a researcher at China Institutes of Contemporary International Relations.