Benefits to patients should be basis for reforming public hospital salaries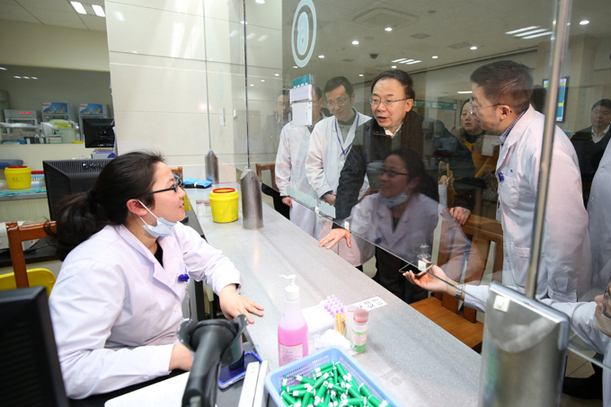 Wuxi Party Secretary Li Xiaomin pays a visit to Wuxi People's Hospital for an inspection in February, 2016. [Photo provided to China Daily]
In an attempt to guarantee that those working for public hospitals are paid in compliance with their professional performance and services, an overhaul of the salaries for medical staff is to be tried out in chosen regions. Beijing Youth Daily commented on Saturday:
For years public hospitals of the Chinese mainland have adopted a uniform salary system paid for with government funds. This has meant medical staff receive regular fixed payments, but that they often find their wages do not match the effort they put into their work.
Underpaying hospital staff compromises the quality of public medical services. Treating doctors and nurses, whose education and training takes longer than most other professions, as normal civil servants in terms of payment fails to see the unique role hospitals play in the public service system.
The upcoming salary reform is designed to break the institutional chains and replace them with a fairer, value-based wage system. Should the plan come into effect, those who perform well and make notable contributions will be granted higher pay, and their employers will be given a bigger say in deciding who gets what.
There is more to expect from the possible salary readjustment. China has for years attempted to press ahead with medical reforms, but only seen limited gains when it comes to providing affordable, accessible services to patients. Instead there is waning trust in medical integrity, thanks partly to the fact that some underpaid doctors have sought bribes to gain at the expense of patients, intentionally or not.
That said, offering proper pay to medical staff should not come at the cost of patients. Meeting the need to give public hospitals sufficient financial support should be coupled with moves to guarantee the better-paid doctors do not seek to overcharge.