Should parents arrange dates for their children?
markwu (Malaysia)
It's a hope of all parents that their children will have good lifelong spouses, especially when most are also concerned that their children may not have the time or sufficient self-intuition to know what's good for themselves.
See the arrangement as only parental love and concern to test fate one last time by applying what they think they know is best for their children to pull in the candidates whom they think make a match.
After all, the final decision will still reside with the children, who should remain grateful for the nudging while being empathic with their parents' concern, parents being people from whom they came about to be born what more to develop characters over the formative years which may be quite different.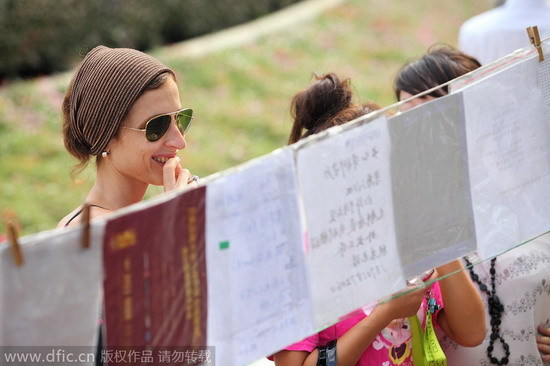 A foreigner appears to be interested in information of marriage seekers at the Peoples Park in Shanghai, China, September 13, 2009.[Photo/IC]