China to see 6.3% growth next year amid uncertainty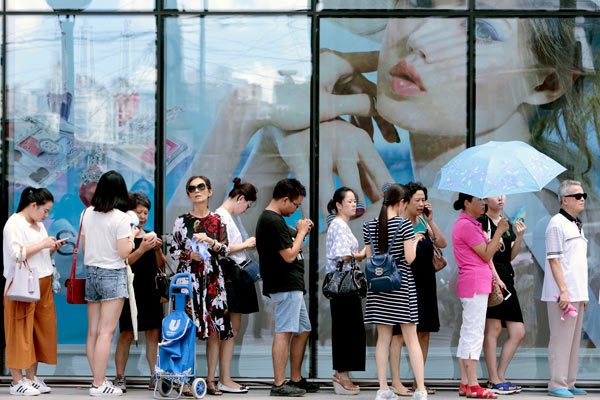 Buyers line up outside a duty free shop which opened in downtown Shanghai, Aug 8, 2016. YIN LIQIN/FOR CHINA DAILY
China's economic growth held steady in November as investment slowed but exports and consumption picked up pace. Looking ahead, we expect 6.7 percent GDP growth in 2016 and, amid substantial uncertainty, 6.3 percent in 2017.
The brisk rise in the Producer Price Index (PPI) recently has led to questions about the risk of significant inflation and implications for the policy stance. However, we do not think PPI inflation will be high for long.
Nominal fixed asset investment (FAI) growth slowed from 9 percent in October to 8.3 percent year-on-year in November, in part reflecting weaker real estate activity. As expected, housing sales growth slowed strongly last month to 7.7 percent year-on-year, following housing purchase restrictions introduced by local governments in more than 20 cities in early October. Housing starts also slowed again, leaving them up 4.9 percent year-on-yeary. Manufacturing FAI, on the other hand, picked up pace, growing 8.3 percent last month.
Exports rose substantially in November. Meanwhile, household consumption remained robust, with real retail sales growth picking up to 9.2 percent year-on-year last month, although the expansion of passenger car sales cooled further to 17.2 percent year-on-year.
In all, overall growth in industrial value added (VA) nudged up to 6.2 percent year-on-year in November, with mining output continuing to fall and manufacturing VA growth steady at 6.7 percent.
Looking ahead, China can comfortably meet the target of at least 6.5 percent GDP growth this year – we expect 6.7 percent. In 2017, China should benefit from any pick-up in growth in the United States from more expansionary fiscal policy under President Trump. But the increase in uncertainty and risk of China-specific trade restrictions will weigh on exports. Overall, we expect the export outlook to improve somewhat next year, helped by some strengthening of global demand and the 8 percent trade-weighted depreciation in the year to November.
Domestically, infrastructure investment should remain solid during a year of a major leadership reshuffle and corporate investment should benefit somewhat from renewed profit growth. But the recent tightening of housing purchasing restrictions in many large cities will weigh on real estate investment and consumption will likely slow further on moderating wage growth.
Next year, growth will continue to rely on policy support in the form of fiscal expansion and, especially, generous credit growth. We do not expect policymakers to significantly slow the pace of credit expansion before the 19th Party Congress of H2 2017. But the decent overall economic growth achieved recently makes it a bit easier to consider some adjustment of the stance. Indeed, the PBoC has started to signal a mild shift of its stance, allowing 3-month interbank interest rates to rise.
The brisk rise in the PPI recently – it was up 3.3 percent on the year in November, compared to CPI inflation of 2.3 percent – has led to questions about the risk of significant inflation and implications for the policy stance. However, we do not think PPI inflation will be high for long.
The output price increase reflects higher prices of coal and heavy industry products – these sectors contributed 0.6 percentage points (ppt) and 2.6 (ppt), respectively – with no material change in output price momentum in other sectors. Coal prices rose because of government-mandated production cuts and in heavy industry sectors such as steel firms were surprised by the strength of demand this year. However, these sectors still suffer from major excess capacity. Based on our outlook for global commodity prices and, in China, for real estate and the economy more generally, we expect PPI inflation to be moderate in 2017.
Overall, we expect GDP growth to slow to 6.3 percent next year. High uncertainty means that Chinese economic policymakers will want to keep options open. At least the reasonable current growth momentum gives policy some two-way leeway.
The author is the Hong Kong-based head of Asia economics for Oxford Economics.