Sharing bikes to promote green transport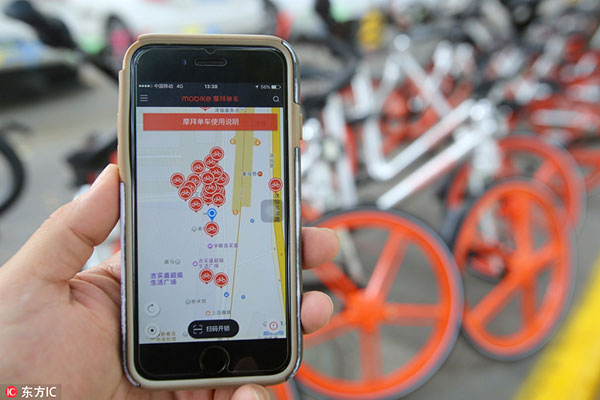 A Chinese mobile phone user scans the QR code on the bicycle of bike-lending service Mobike on a road in Shanghai, Aug 17, 2016. [Photo/IC]
The burgeoning bicycle-sharing business, bolstered by bike-on-demand service apps such as Beijing-based Mobike and ofo, has made some inroads into an increasing number of Chinese cities after successful trials in the past year.
Since August Mobike has landed four rounds of financing worth hundreds of millions of dollars. Its major rival ofo, which got space to park its first batch of yellow bicycles on university campuses more than a year ago and recently began offering the service to communities, is now valued at $500 million thanks to endorsements by big names such as Didi Chuxing.
GPS-enabled and painted in distinctive orange, at least 100,000 Mobikes are in service in Beijing, Shanghai, Shenzhen, Guangzhou and Chengdu. And with its signature yellow bikes, ofo now connects about 227,000 bicycles in 21 cities, many of which are collected from local bike owners and producers. Newcomers like Hello-bike and Ubike are catching up.
The investment spree best exemplifies the vitality of the internet-driven "sharing economy" and the difference the ride-on-demand services can make as a derivative. Unlike traditional public bikes that have to be borrowed at and returned to a bike stand after a journey, sharing bikes save people from such troubles.
Using an intelligent lock with positioning functions to help users locate and borrow bikes, these smart bicycles can be parked in any public area approved by a local government. Normally, they can be unlocked in seconds by simply scanning the exclusive QR code on each bike. Suitable for both enthusiastic cyclists and daily short-distance commuters, the round-the-clock, hourly-charging service is obviously a bonus.
But bike-sharing platforms face grave maintenance and management challenges. Damage to and losses of bikes, along with improper parking, are often reported despite their owners' repeated calls for proper, considerate use. Regular disappearance and damage reports have not just imposed extra financial burdens on the bike-sharing companies, but also raised the costs of offering such a service at the expense of decent customers. Parking in unauthorized areas poses a challenge to urban management, too.
Dishonest users cannot be avoided in most cases and are beyond technical restrictions, such as credit deductions and fines. They are likely to abide by the rules when needed administrative intervention is in place.
That some 200 sharing bicycles were impounded last month by the urban management authorities in Chengdu in Southwest China's Sichuan province for "illegally occupying public space", however, is not a kind of rule needed. Rather, what local governments should do is to adapt to the rising trend of bike sharing, and devise rules keeping the local conditions and people's convenience in mind.
Boundaries need to be drawn for where the sharing bikes can be parked. Impounding all wrongly parked bikes or sitting idle when bike losses are reported would be of little help, especially because of the rising demand for sharing bikes.
Bike-sharing services should be welcomed by cities aspiring to promote green transport and reduce vehicle emissions and congestion. The GPS system installed on these bikes can help the service apps easily trace the unruly users, who are less likely to repeat their mistakes if given an official warning by the urban management authorities.
The good news is that the Chengdu urban management authorities have returned the 200 impounded bikes to their owners and pledged to work on its enforcement, and a man in Shanghai was given a three-month sentence and fined 1,000 yuan ⅔($145) for keeping a Mobike for his personal use.
The service apps do have other options besides issuing penalties. Keeping a record of customers using sharing bikes and adding it to their credit record would be a worthy attempt, so would recruiting volunteers to supervise and report improper use.
The author is a writer with China Daily.
cuishoufeng@chinadaily.com.cn