Abe on a pretentious remorse visit to Hawaii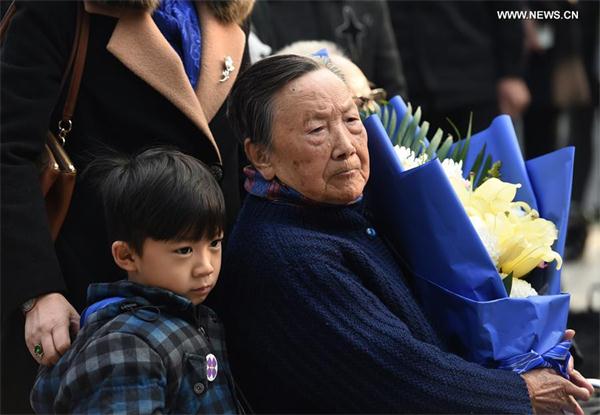 Xia Shuqin (R), a survivor of the Nanjing Massacre, and her family members mourn the victims at the Memorial Hall of the Victims in Nanjing Massacre by Japanese Invaders in Nanjing, capital of East China's Jiangsu province, Dec 3, 2016. [Photo/Xinhua]
A series of commemorative events have been held in Nanjing, East China's Jiangsu province, ahead of the National Memorial Day for Nanjing Massacre Victims on Tuesday, with many people mourning the deaths of relatives who were killed in the massacre.
More than 300,000 Chinese citizens fell victim to the invading Japanese troops in Nanjing from December 1937 to January 1938. But Japanese Prime Minister Shinzo Abe does not seem to be bothered that Japan is yet to offer a sincere apology to the neighboring countries that were occupied and terrorized by Japan before and during World War II. Instead, he has decided to visit Pearl Harbor on Dec 26 with US President Barack Obama 75 years after Japan launched an attack on Hawaii.
But Abe's visit to Hawaii-the first by a Japanese leader to Pearl Harbor since the end of World War II-is about "consoling the souls of those who died in the war", not to apologize for Japan's wartime crimes, Japanese Chief Cabinet Secretary Yoshihide Suga has said. Which means Abe is not likely to apologize for the attack on Hawaii that killed more than 2,000 US citizens.
His apology-free trip to Hawaii offers a glimpse into the prevailing, yet false reading of history among a slew of Japanese leaders that owning up to the country's wartime past is not necessary, which contradicts the much-touted Japanese "noble and precious" values of liberty, democracy and the rule of law.
Refusing to face up to the country's wartime past will not absolve Japanese leaders of their responsibilities. Rather, it will call into question their credibility. The irony is, the globally respected principle of liberty, democracy and the rule of law is the result of the collapse of fascism and its once-dedicated followers-Japan, Germany and Italy.
In the case of Pearl Harbor, Japan launched a war against the United States. Their engagement, however, was basically on an equal footing given their comparative military strength and geopolitical influence at the time. In contrast, what Japan unleashed on China and its people was sheer terror since China was much weaker then. And the most tragic example of that terror was the slaughter of more than 300,000 Chinese people in Nanjing, which was not only an immoral but also irredeemable crime.
If Abe could express "deep remorse" over the Japanese military's atrocities to the US and visit Pearl Harbor in the name of "reconciliation", he should have had done the same to China a long time ago. Unfortunately, he did not and has no intention to do so, let alone pay a visit to Nanjing.
Chinese people deserve a proper apology from a sitting Japanese leader for what the Imperial Japanese Army did in Nanjing and elsewhere in China. So do those in many other Asian countries, which, as Chinese foreign ministry spokesman Lu Kang said on Wednesday, are available for Japan to offer condolences to victims of its wartime atrocities. Their request is by no means about "playing the history card".
In fact, there have been heartfelt reflections of Japan's wartime past by many Japanese, including former prime minister Yukio Hatoyama. Although Hatoyama did not visit Nanjing while in office due to domestic pressures, he went to the Chinese city to express his deep repentance for the notorious massacre after his term in office.
Just one month ago he apologized again for Japan's bombardment of Southwest China's Chongqing from 1938 to 1944, which left more than 30,000 people dead or injured, and criticized Abe for playing up the "China threat" theory.
But his criticism of Tokyo's distorted views on history drew fierce opposition, even insults, at home, casting a shadow over the promotion of the "freedom of speech" in Japan. Reconciliation is called for, but it is only possible if the incumbent Japanese administration stops playing word games and reiterates its promise to avoid repeating "the horrors of war".
The author is a professor of Japanese studies at China Foreign Affairs University.