Exploring Nanjing from its dinner tables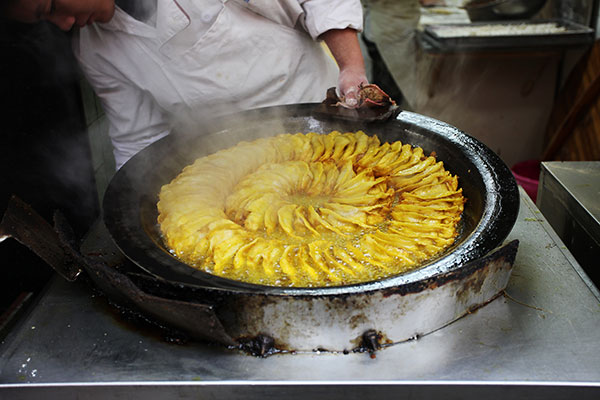 Pan-fried beef dumplings, one of the signature dishes of Nanjing. [Photo provided to China Daily]
Nanjing's cuisine is informed by its opportune geography-especially its proximity to the Yangtze.
Its clement climate and location in the massive river's reaches sheathes it with rich earth that nurtures a cornucopia of foodstuffs.
Locals venerate freshness and knife work.
Flavor balances and crisp-yet-tender textures are ensured by the prominence of stewing, simmering and roasting as favored cooking methods.
Many dishes, likes reeves shad, hail back six centuries.
Its duck dates to 1,400 years ago.
Nanjing's ducks' diets are largely cereals, which are said to make their flesh tender.
And because of the region's largely aquatic terrain, the waterfowl serves as a staple. It's roasted, dried and salted, and brine-soaked. Its blood is made into a soup that's a culinary calling card of the city.
Chopped, brine-soaked duck is another iconic delicacy made from birds simmered and hung to dry for three days. Bones slip off the flesh, making the skeleton less an obstacle than one may expect.
Other favored meats include beef, chicken and pork. Crab roe and shrimp feature heavily in aquaculture.
Another signature dish is pan-fried beef dumplings packed with minced meat, spring onions and ginger.
They're fried on one side and then boiled until the water evaporates, producing a tender top and crispy base.
Some upscale restaurants have made a point of serving set courses in specific orders to ensure that customers get a full taste of local gastronomy.
That said, the cuisine has recently absorbed elements from other places, while its reach simultaneously radiates further across the country and world.