Sino-US ties will need more than a friendly messenger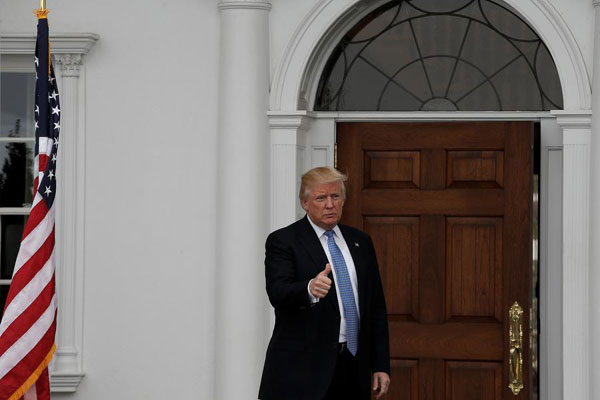 US President-elect Donald Trump gestures from the front door at the main clubhouse at Trump National Golf Club in Bedminster, New Jersey, US, November 20, 2016. [Photo/Agencies]
Upon appointing Iowa Governor Terry Branstad, whom Beijing warmly embraces as "an old friend", as US ambassador to China, United States president-elect Donald Trump highlighted the latter's "long-time relationship with Chinese President Xi Jinping", which he believes will be conducive to a "mutually beneficial relationship".
With his longstanding relations with China and its present leader, as well as his famous conviction to free trade, Branstad's appointment, once it gets US Senate approval, will no doubt serve both countries well.
He will prove a privileged, effective messenger for handling the upcoming uncertainties in bilateral ties, particularly in trade.
But a mutually beneficial relationship entails more than a trusted messenger. Not to mention that a diplomat's success to a great extent hinges on his country's foreign policies.
If the phone call between Donald Trump and Taiwan leader Tsai Ing-wen was indeed a long-planned move as reported and was meant to remind Beijing that it is dealing with a different kind of US president, it need not have happened in the first place, since Beijing is well aware of that.
If, as some analysts have observed, the call was Trump's "opening negotiation bid" for the future of Sino-US ties under his administration, it was rather ill-advised.
The Trump transition team obviously pinned a lot onto that unconventional call. But although they may have viewed it as an attempt to put pressure on what they consider a "leverage point" with China, it was a misjudged, if not dangerous, undermining of the consensus that bilateral relations are built on.
Trump may be a shrewd businessman adroit in commercial deal-cutting. He might have taken a page from his business manual-make a rigorous opening bid, then settle for less. But make no mistake about it: Taiwan stands on top of China's menu of core national interests, and is not negotiable.
The consensus on one China has served as the ultimate ballast for China-US relations for nearly four decades, and not without reason.
Trump is in favor of uncertainty. We all heard his campaign declaration that unpredictability is a useful tool for strengthening US leverage abroad. However, ignoring the consensus on one China will do more than simply inject more unpredictability into cross-Straits diplomacy.
Trump wants to renegotiate many international arrangements he finds undesirable, and to remake them in his country's favor. This is a major component of his ambitious "Make America Great Again" project.
If he is misled by his advisors for whatever reason into believing that unnegotiables are negotiable, in this case the one China principle regarding Taiwan, the consequences could be serious.