Gender bias in spotlight after soft sentence for baby girl's murder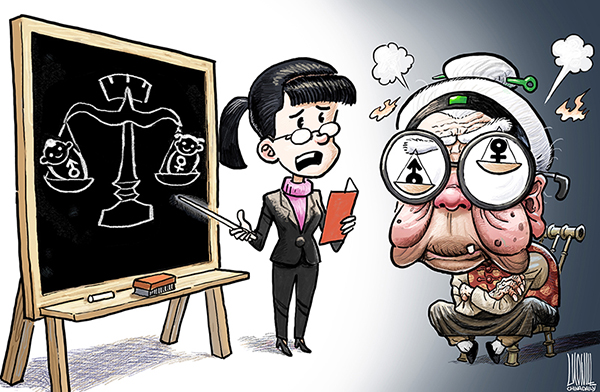 Luo Jie/China Daily
ZHANG AIFEN, a woman from Nantong in East China's Jiangsu province, wanted to have a grandson so she kept encouraging her daughter-in-law to give birth to a child. However, when her daughter-in-law had a female baby last November, she was so angry that four days after her granddaughter was born, she killed the baby by stamping on her head. The woman was recently found guilty of murder by the local court, and received a penalty of 10 years in prison, a light punishment in the eyes of many netizens. Beijing News comments:
According to the Criminal Law, the penalty for murder should be capital punishment, life imprisonment, or 10 or more years in prison. So a 10-year prison sentence is rather light.
The Nantong Intermediate People's Court said it gave her a light penalty because "she was forgiven by the relatives of the victim and the neighbors".
What have the neighbors got to do with it?
That they and the woman's relatives, including the daughter-in-law, said they forgive the woman shows how deeply rooted gender bias is in people's thinking.
In fact, Zhang should get a heavy penalty as the woman killed the 4-day-old baby in a cruel, premeditated way-by stamping on the defenseless baby's head. Justice has obviously not been seen to be done in this case and the light penalty will fail to deter others from committing similar gender bias crimes in the future.
It is the second decade of the 21st century, why do some people still hold the out-dated mindset of favoring a boy over a girl? This thinking belongs to the past and should have been consigned to history by now.
It might be a personal matter if some people just persist in their view, but the law must prevent people from turning such thoughts into deeds.