Return of manufacturing unrealistic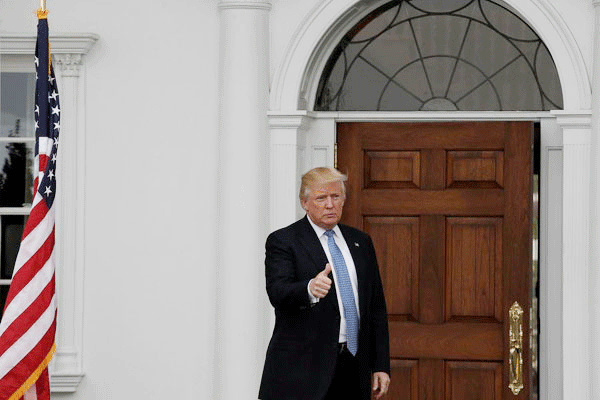 US President-elect Donald Trump gestures from the front door at the main clubhouse at Trump National Golf Club in Bedminster, New Jersey, US, November 20, 2016. [Photo/Agencies]
With the United States about to undergo a power transition, people are wondering whether the incoming administration of Donald Trump will take over the baton from the outgoing Barack Obama administration and finish the latter's unfulfilled dream of bringing its outsourced manufacturing back to the US.
Trump's resolve to revitalize manufacturing in the US should not be underrated, but such an ambitious goal is by no means an overnight task.
Considering that Trump's victory was largely due to the support he won from the majority of US grassroots voters, it is expected that after coming to office he will take "big actions" to fulfill his promises to revive manufacturing in the country and considerably increase employment.
The policy proposals Trump advocated during his presidential campaign also mean he may impose higher tariffs on imports as a way of reversing the US' trade deficit, push for the making of trade pacts that can maximize the interests of the US or take available measures to reclaim "lost job opportunities" for US employees. Trump has also made clear his plan to push transnational corporations such as Apple Inc to move production lines back to the US. To this end, Trump may slash taxes and loosen policy regulation.
As a matter of fact, some advisory agencies in the US have expressed pessimism over the large-scale return of manufacturing, believing that reestablishing an industrial chain is an unattainable task, particularly within a short period of time.
Since whether it can smoothly bring outsourced manufacturing back to the US depends on whether the US can gain an upper hand over its competitors in terms of labor costs, a skilled workforce, a vocational training system and the industrial supply chain, it will take time and need the collaboration of multiple industries.
--Guangzhou Daily