Continued support for peace process in Myanmar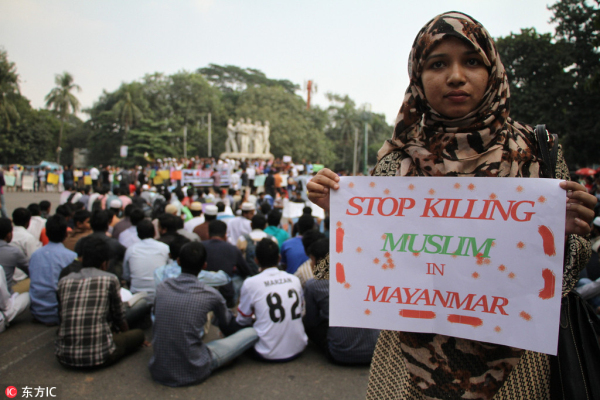 November 21, 2016 - Dhaka, Bangladesh - Bangladeshi students protest against the recent mass killing of Rohingya people in Myanmar at the Dhaka University campus in Dhaka, Bangladesh on November 21, 2016. Hundreds of students of Dhaka University gathered at Raju Memorial Monument around with placards and festoons and urged the United Nation and other global human right bodies to force the Myanmar government to stop the mass killing and violence against the Rohingya people. The protesters also demanded the cancellation of Nobel Prize of Myanmar leader Aung San Suu Kyi as she failed to stop the violence against minority Rohingya people of Rakhine state.[Photo/IC]
The intense fighting that broke out between Myanmar's government forces and the members of three armed groups on Sunday near the border with China has shown that the road to national reconciliation in Myanmar remains long and tortuous.
Beijing has wasted no time in calling on all parties to exercise restraint, and it has urged the conflicting parties to agree to end the fighting and restore stability.
In the meantime, the People's Liberation Army has been put on alert to protect the lives and property of Chinese citizens in the event the fighting escalates. On previous occasions, Chinese residents have been killed and injured when fighting has spilled over the border into China.
It is to be hoped, however, that all parties in Myanmar will make concrete efforts to progress the peace process by adhering to dialogue and consultation.
The victory of Aung San Suu Kyi's party in Myanmar's elections last year raised fresh hope that peace and reconciliation could be achieved in Myanmar based on fair and transparent power sharing and trust-building among all parties through talks and consultations.
And although Sunday's fighting happened amid the attempts by the Myanmar government to secure non-conflict agreements with those ethnic groups that have not yet signed one, so as to pave the way for the national-level political dialogue scheduled late this month, the push for peace will continue.
China, as Myanmar's friend and partner, stands ready to help the country put an end to its decades of armed conflicts.
As President Xi Jinping said during his meeting with Myanmar's Commander-in-Chief of Defense Services Senior General Min Aung Hlaing during the latter's visit to China earlier this month, both countries can seize the opportunity to give new meaning to China-Myanmar ties in the new era, so as to bring benefits to the people of both countries.
If fighting persists, it will inevitably disrupt peace and stability in the border area. It will also result in an influx of more fleeing Myanmar people into China and damage hopes for the future development of the area.
Stability and a peaceful border will not only protect the lives and security of people from both countries, but also help boost bilateral trade and help complete at an early date the proposed economic corridor linking India, Bangladesh, China and Myanmar that will facilitate development in the area, deepen cooperation and jointly safeguard the common interests of the countries involved.