Free trade the lifeblood of Asia-Pacific economy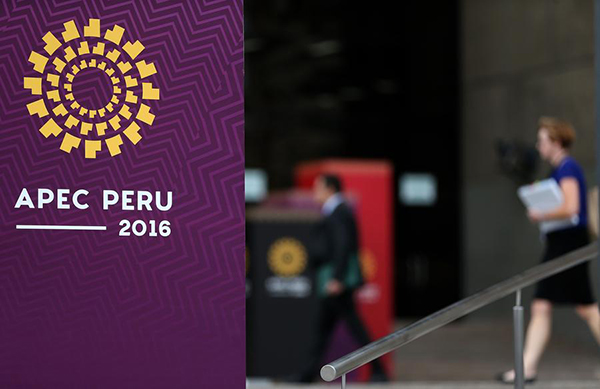 People walk outside the International Media Center (IMC) of the 2016 APEC Economic Leaders' Week in Lima, capital of Peru, on Nov 15, 2016. [Photo/Xinhua]
The gloom over the future of free trade evident at the Asia-Pacific Economic Cooperation Economic Leaders' Meeting in Lima, Peru, is a symptom of the worldwide uncertainty that has resulted from Donald Trump's victory in the US presidential election.
US President Barack Obama, who will hand over the White House to Trump in January, has assumed a fireman's role, assuring the United States' allies and partners everything will be fine. But the worries will continue to linger until Trump takes office and proves, with credible moves, these fears were unnecessary. Strong as it is, the widespread anxiety over the US president-elect's policy orientations are in no way irrational.
Along his campaign trail, Trump continually expressed a protectionist, anti-free-trade inclination, from scrapping the Trans-Pacific Partnership Agreement to re-negotiating the North American Free Trade Agreement. These remarks may have been simply campaign rhetoric meant to appeal to voters that will subsequently fall by the wayside, as some assume. But judging from the prevalent worries voiced in Lima, they are being taken very seriously by those gathered there for the APEC meeting.
Still, we subscribe to the incumbent US president's advice to wait and see, and believe his successor will not want the worst-case scenario to materialize. For, of course, the impact of protectionism on global trade and the ailing world economy would be disastrous.
And it would be equally unaffordable for Americans if the Trump administration turned its back on free trade.
The US has been a champion of free trade because it thrived on it. In spite of all the complaints about job losses, trade deficits and everything, the US as a country has benefited tremendously throughout the process of globalization.
Something has gone seriously wrong with the Obama administration's strategic decisions, which calls for retrospection and correction for the US' own good. But that certainly does not include its judgment that the US should engage more closely economically with the robust Asia-Pacific, though its ensuing pivot has proved problematic and divisive.
In his APEC CEO Summit speech, President Xi Jinping promoted a free trade agreement involving all 21 APEC members. The TPP is inherently defective not only because it is narrow in scope-just 12 members-but also because its exclusive nature and antagonist approach may effectively break up APEC, rendering development-oriented cooperation impossible.
An APEC free trade agreement, on the other hand, would serve all stakeholders well, make APEC stronger, and dovetail easily with other existing regional free trade arrangements.