A triumph for anti-graft law enforcement cooperation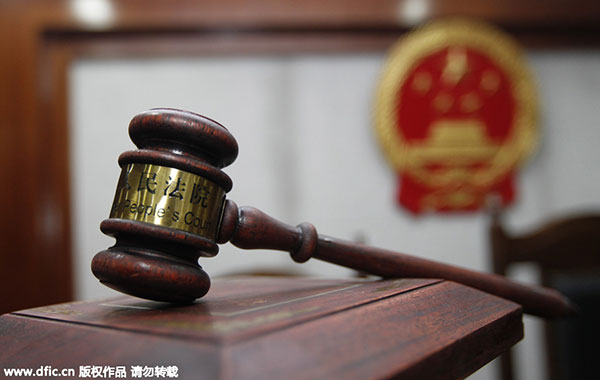 A gavel in a court. [Photo/IC]
The surrendering to justice of China's most wanted fugitive Yang Xiuzhu on Wednesday is a major achievement for the country's anti-corruption efforts.
It also indicates that China's law enforcement cooperation with other countries in tracking down and apprehending its corrupt officials, wherever they flee, has entered a new stage.
Yang, a former vice-mayor of Wenzhou in East China's Zhejiang province, is accused of embezzling more than $37 million and ranks No 1 on China's most-wanted list of 100 fugitives publicized in April last year, all of whom are subject to Interpol "Red Notice" arrest warrants.
Yang, 70, who has been brought back from the United States to answer the charges against her after being on the run for 13 years, is the 37th fugitive on the list taken into custody so far.
For a long time trying to bring wanted fugitives back to China to face trial was a challenging and often futile task.
Less than 50 countries have extradition treaties with China, and many developed countries such as the United States and Canada, the destinations for most Chinese fugitives, are yet to sign such a treaty.
The obstacles have included the differences in judiciary systems as well as political issues, such as human rights concerns, which some in the West have repeatedly sought to use as a pretext for not cooperating with China's law enforcement agencies.
But through consultations, new ways have been explored in recent years to solicit international cooperation. In Yang's case, the China-US Joint Liaison Group on Law Enforcement played a pivotal role in ensuring her detention and repatriation.
Special groups set up at the central, provincial and municipal levels, equipped with lawyers, have collected clear and convincing evidence to allow law enforcement agencies in other countries to proceed with investigations into Chinese fugitives.
Yang's return to face trial should serve as a wake-up call for those fugitives still at large to drop any illusions they may harbor that they can escape justice.
The broadcasting of Yang's arrival back in China to face charges, like the recent TV series featuring the details of more than 70 officials caught for corruption over the last four years, shows the leadership's determination to demonstrate the consequences of corruption.
It reinforced not only the leadership's resolve to eliminate corruption, but also that there are fewer and fewer places for corrupt officials to flee to as a growing number of countries realize that corruption is a common enemy of the international community.