US change of tack over AIIB would be a responsible move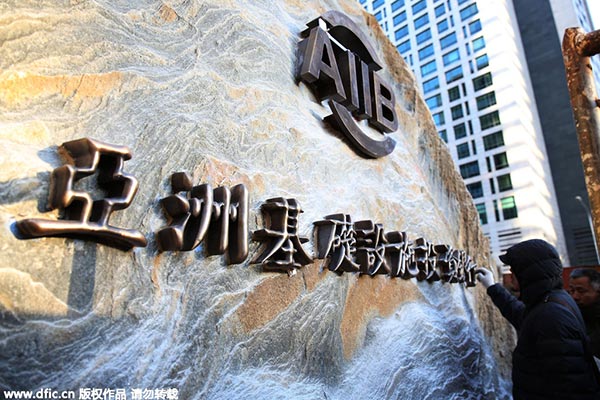 A Chinese worker installs signs on a giant rock in front of the headquarters building of the Asian Infrastructure Investment Bank (AIIB) in Beijing, January 12, 2016.[Photo/IC]
The possibility of a policy U-turn by Washington to embrace the China-led Asian Infrastructure Investment Bank following Donald Trump's win in the US presidential election is to be welcomed, since it would be in the interests of the United States and Asia at large.
Donald Trump's national security adviser, James Woolsey, has reportedly called the Barack Obama administration's decision not to join the AIIB "a strategic mistake", sparking speculation that the country will reconsider its reluctance to become a member of the newly created institution.
The Obama administration attributed its opposition to joining the newly established investment bank to concerns that the bank may fail to meet existing international standards, even though its founding members have committed to working together to ensure it follows the best standards and practices in governance, transparency, environmental and labor issues.
The stance it adopted simply reveals the outgoing US administration's true concern that the AIIB would challenge or reduce the influence of the US-dominated Bretton Woods institutions such as the World Bank.
In fact, the funds available from the World Bank and the Asian Development Bank fall far short of the massive need for investment in infrastructure in Asia.
Rather than competing with these institutions, the AIIB is designed to make up for the shortfall in international financial support for infrastructure development and regional connectivity in Asia.
The proposed investment in Asian transport, energy and telecommunication sectors also offers huge business opportunities to companies from member countries, one of the reasons why many of Washington's allies in the West such as Britain, Italy and Germany have joined the AIIB despite opposition from the US.
Actually, by dragging its feet on the International Monetary Fund's quota reform to give developing economies a bigger say in that organization, the US has itself to blame for China seeking to build a new institution that caters to the need for more economic cooperation among developing nations.
But as the Chinese saying goes, it is never too late to mend the fold after a sheep is lost. The US has nothing to lose by becoming a member of the AIIB, which is built on the promises of being open, inclusive, and transparent. The US can also play a more constructive role by being a member than by remaining outside it.
Joining the AIIB would be a good signal by the new Trump administration that the US is more willing to act as a responsible global power.